View all news
Sporting success for students in Hispanic, Portuguese and Latin American Studies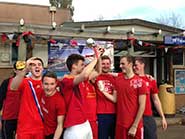 23 May 2013
Deportivo Woodland Road 2 – a six-a-side football team made up of students from the Department of Hispanic, Portuguese and Latin American Studies – has won the 26th edition of the annual Copa Sandino.
Representatives of the Nicaraguan Embassy to the UK presented captain Daniel Thacker (second year German and Spanish) with the trophy after his team displayed heroic skills and great endurance during the final of the tournament at Ashton Park school.
This was the eighth time Deportivo Woodland Road have entered the Copa Sandino, and the first time they had even reached the quarter-finals. This year, the students of Deportivo Woodland Road 2 took on their lecturers whose team, Deportivo Woodland Road 1, was captained by Dr Matthew Brown (Reader in Latin American Studies) and Aris da Silva (Teaching Fellow in Spanish Language). The students defeated the staff 3-0, and eventually won the final on penalty kicks. Aris da Silva said: "They were lucky to beat us, but at least our name is on the trophy."
The Copa Sandino 2013 raised around £1,600 for education projects in Puerto Morazán, Bristol's Nicaraguan twin-town. Twenty teams took part, including those representing Latin American communities in Bristol. One of Deportivo Woodland Road 1's players, midfielder Dr Rupert Medd, has just completed work on an Arts and Humanities Research Council Cultural Engagement project on 'Latin America in Bristol'. The project website will go live next week featuring films and audio interviews with many of the Chileans, Mexicans, Cubans, Ecuadorians and Brazilians whose stories are often unheard in the city.
The champions' team was: Daniel Thacker (German and Spanish), Matt Proudman (Spanish and Russian), Daniel Simms (Historical Studies), Jack Penzer (Philosophy), Alex O'Brien (Italian and Spanish), Alex Gorokhov (Spanish and Russian) and Alex Harrow.