View all news
Reading to escape takes Damien from prison to university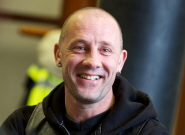 Press release issued: 7 May 2013
The remarkable journey from reading literature in prison to studying for a degree at the University of Bristol has earned Damien Moran an adult learner award. The 41-year-old, who is studying part-time for the BA in English Literature and Community Engagement, will receive a South West Regional Individual Learner Award as part of Adult Learners' Week from 18 to 24 May 2013.
The 41-year-old, who is studying part-time for the
BA in English Literature and Community Engagement
, will receive a South West Regional Individual Learner Award as part of Adult Learners' Week from 18 to 24 May 2013.
In his teens and 20s, Damien was in and out of prison due to drug and alcohol addiction. He began reading literature while in prison, mainly out of boredom and for escapism.
The independence Damien gained from literature motivated him to join the Reading English Literature (REL) evening course at Bristol University years later, in 2009.
He was nervous about fitting in and wondered if he'd read the right books or could write an essay, but Damien excelled and progressed on to the University's part-time English Literature and Community Engagement degree in 2010. Damien is now in his third year and is due to graduate in 2016.
He said: "I was really surprised to find out I'd won an award. One of the reasons for entering and accepting it is to encourage people in a similar position to engage in adult learning.
"It was initially very intimidating to think about studying at university but the support has been fantastic and I've developed great relationships with both my tutors and fellow students. Engaging with higher education has opened so many doors for me, both with work and my social life."
The part-time BA English Literature and Community Engagement is unique because it offers the chance to gain an undergraduate degree from the University of Bristol by attending for just one night a week. Students are also able to share their learning with the wider community.
As part of the degree, Damien runs a reading group with the IDEAL project which is for people affected by drugs and offending. Damien shares his passion for literature with the group, citing it as the reason he recovered from drug addiction.
Seven of the last group progressed to the REL course, despite having previously shied away from university.
Damien, who works part-time as a mental health support worker, added: "IDEAL provides a platform for inspiring other people to learn. Subjects within the arts are especially accessible so I do my best to let people know what options are out there.
"People I've met through IDEAL and through the University push me forward to continue my own learning journey, enabling me to constantly challenge myself. Studying and reading has become my passion and I hope to go on to complete a Masters degree."
Damien will collect his award at the Adult Learners' Week Regional Award Ceremony, at Sandy Park in Exeter on 23 May. Adult Learners' Week is the largest annual celebration of adult learning in the UK, organised by the National Institute of Adult Continuing Education (NIACE).
Skills Minister Matthew Hancock said: "The achievements of this year's NIACE Adult Learners' Week winners are inspirational. Each winner demonstrates the life changing benefits education offers.
"To make it easy for anyone wanting to re-train, or to choose a new course of study, the National Careers Service is on hand and in its first year has advised 800,000 people on what options are open to them."
David Hughes, NIACE Chief Executive, said: "Each and every year during Adult Learners' Week we are reminded, by all the award winners' stories, just how much people can improve their lives through learning.
"It helps them become more involved in their communities and often gives them a brighter future to look forward to. I hope their dedication, enthusiasm and desire for a better life inspires others to take up learning and transform their own lives as well."
Watch a video about the BA in English Literature and Community Engagement on YouTube.
Further information
The University of Bristol is currently recruiting students for its new Foundation Year in Arts and Humanities, a new exciting route to an undergraduate arts degree for those without qualifications. Further information is available
here
.