View all news
Former Government Chief Scientific Adviser, Professor Sir John Beddington to take up new role at Bristol's Cabot Institute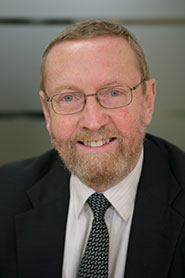 Press release issued: 8 May 2013
Sir John Beddington has been named as the new Chair of the Cabot Institute External Advisory Board at the University of Bristol. He was Chief Scientific Adviser to the UK Government from January 2008 to April 2013.
While in post, he led on providing scientific advice to Government during the 2009 swine flu outbreak, the 2010 volcanic ash incident, and the emergency at the Fukushima nuclear power plant in 2011. He has also been responsible for increasing the scientific capacity across Whitehall by encouraging all major departments of state to recruit a Chief Scientific Adviser.
A specialist in the application of economics and biology to particular problems in the management of fisheries and other renewable resources, he has acted as a senior advisor to several major national and international bodies including the UK, US and Australian Governments, the European Commission , the United Nations Environment Programme and the Food and Agriculture Organisation.
In June 1997 he was awarded the Heidelberg Award for Environmental Excellence; in 2001 he became a Fellow of the Royal Society. In 2004 he was awarded the Companion of the Order of St Michael and St George by Her Majesty the Queen and in June 2010 was awarded a knighthood in the Queen's Birthday Honours.
Sir John Beddington said: "We face huge, complex and interlinked environmental challenges in the twenty-first century, as well as unprecedented opportunities to change the ways we live. These challenges can only be tacked by researchers coming together across disciplinary boundaries. The Cabot Institute is an inspiring example of this kind of collaboration, and I look forward to working closely with them."
Professor Paul Bates, Director of the Cabot Institute and Professor of Hydrology, said: "We are honoured and excited that Sir John will be joining the Cabot Institute as Chair of our External Advisory Board. He brings a wealth of experience as both a practising scientist and leading policy advisor. His appointment underlines our ambition to put societal needs at the heart of our research."
The Cabot Institute at the University of Bristol carries out fundamental and responsive research on risks and uncertainties in a changing environment. Its interests include natural hazards and climate change, food, water and energy security, and human impacts on the environment. Its research fuses rigorous statistical and numerical modelling with a deep understanding of interconnected social, environmental and engineered systems – past, present and future.
Sir John will give a public lecture on 30 May 2013. Please visit Cabot Institute for further details.