View all news
Omega-3 can help laying hens avoid bone damage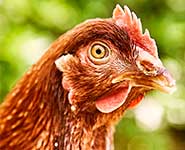 Press release issued: 28 January 2013
Researchers from the University's School of Veterinary Sciences have found that omega-3 could help laying hens avoid bone damage, which affects millions of hens each year, and the research may also help human patients suffering from osteoporosis.
The three-year research project, led by Dr John Tarlton and colleagues from the University of Bristol's School of Veterinary Sciences, investigated the benefits of omega-3 supplemented diets in laying hens. They looked at the full biochemical and cellular mechanisms through which omega-3 is able to improve bone health. This study, published in the journal BONE, could also have potential benefits for human osteoporosis, a disease that affects almost three million people in the UK.
Free range hens housed in full scale commercial systems were provided diets supplemented with omega-3 alpha linolenic acid, and the skeletal benefits were investigated by comparison to standard diets rich in omega-6 linoleic acid.
The research group found a 40 to 60 per cent reduction in keel bone breakage rate and a corresponding reduction in breakage severity in the omega-3 supplemented hens, compared with standard diets. There was also significantly greater bone mineral density, alongside improvements in bone structure.
The mechanical properties of the omega-3 supplemented hens were also improved, with strength, toughness and stiffness demonstrating substantial increases. Osteoblast and osteoclast markers both showed increases with the omega-3 diets, indicating enhanced bone turnover. This was corroborated by the significantly lower levels of the mature collagen crosslinks, with a corresponding shift in the mature/immature crosslink ratio.
Dr John Tarlton, Senior Research Fellow in Veterinary Pathology and Infection and Immunity, said: "Bone fragility due to osteoporotic changes in laying hens is a major economic and welfare problem, with our recent estimates of breakage rates indicating up to 95 per cent of free range hens suffer breaks during lay in some housing systems."
Dr Michael Toscano, Research Associate working with Dr Tarlton, added: "The improved skeletal health in laying hens could correspond to as many as 68 million fewer hens suffering keel fractures in the EU each year. Also, our research findings on the mechanisms of improved bone strength may help human patients suffering from osteoporosis."
Dr Tarlton explained: "The omega-3 and omega-6 polyunsaturated fatty acids (PUFAs) are the immediate precursors to a number of important mediators of immunity, inflammation and bone function, with products of omega-6 generally thought to promote inflammation and favour bone resorption."
Western diets generally provide a ten to 20-fold deficit in omega-3 PUFAs compared with omega-6, and this is thought to have contributed to the marked rise in incidence of many disorders of modern human societies, such as heart disease, colitis and perhaps osteoporosis. Many of our food production animals, fed on grains rich in omega-6, are also exposed to a dietary deficit in omega-3, with perhaps similar health consequences.
The research study was funded by the Department for Environment, Food and Rural Affairs (Defra), the Biotechnology and Biological Sciences Research Council (BBSRC), and industrial partner, Noble Foods, the UK's leading egg marketing company.
Paper: Reduced bone breakage and increased bone strength in free range laying hens fed omega-3 polyunsaturated fatty acid supplemented diets, John F Tarlton, Lindsay J Wilkins, Michael J Toscano, Nick C Avery, Lynda Knott, BONE, Volume 52, Issue 2, February 2013, Pages 578-586.
Further information
The UK is the 6th largest egg producer in the EU and is home to 33 million laying hens. The UK is 82 per cent self-sufficient in eggs and egg products. The UK table egg industry is estimated to be worth £561 million. In 2010, the volume of egg production for human consumption was 826 million dozen from the following farming methods: 49 per cent laying cages; 47 per cent free range and 4 per cent (barn and organic) (Defra).
The EU passed a ruling that by 2012 all laying hens must be transferred from conventional cage systems.
About Defra
Defra funds applied research to ensure all policy-decisions are based on sound scientific evidence.
About the Biotechnology and Biological Sciences Research Council (BBSRC)
BBSRC invests in world-class bioscience research and training on behalf of the UK public. Our aim is to further scientific knowledge, to promote economic growth, wealth and job creation and to improve quality of life in the UK and beyond.
Funded by Government, and with an annual budget of around £500M (2012-2013), we support research and training in universities and strategically funded institutes. BBSRC research and the people we fund are helping society to meet major challenges, including food security, green energy and healthier, longer lives. Our investments underpin important UK economic sectors, such as farming, food, industrial biotechnology and pharmaceuticals.