View all news
From puppets to pedal power: Bristol's best business ideas scoop over £30,000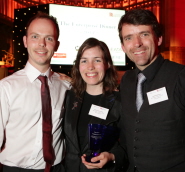 Press release issued: 29 June 2012
A unique concept which brings puppets to life through the use of soft robotics has won Bristol's equivalent of Dragon's Den and a share of over £30,000 prize money.
The futuristic idea, from Rusty Squid Ltd, was one of seven ground-breaking ideas vying for the judges' votes at the University of Bristol's New Enterprise Competition which was judged by a panel of industry experts.
Rusty Squid is made up of roboticists, puppeteers and model makers who design and build 'corporeal' creatures which can interact with people to help with anything from marketing to education.
The team has won £10,750, plus £2,000 worth of legal support from Veale Wasbrough Vizards, to help grow their idea from a part-time collective into a scalable business.
Judges were impressed by their concept and excited by the fact Rusty Squid's creations are currently so popular that they're having to turn away demands for their work.
Final year Physics PhD student Brendan Arnold put Rusty Squid's business plan together and works alongside the company's directors - David McGoran, Roseanne Wakely and Paul O'Dowd.
Brendan, 30 from Hotwells, said: "We focus on soft robotics which people can physically handle. So, for example, one of the members has built Heart Robot which engages in a very primal way. It looks like a puppet but has inbuilt robotics which create a heartbeat and enable it to squeeze someone's hand.
"We find that they're very popular as a marketing tool because it gets people talking and engaging. We do a lot of work for museums and theatres who want to make showcases for various events. Winning this competition is incredible and will allow us to fast-track many of the projects we're currently working on and help achieve more exposure."
Second place went to students Sam Harris and Nishil Raichura for their Pedal Power Transport business, which is a courier and taxi business powered by people rather than petrol. They have specialised rickshaws which allow them to make deliveries of people and parcels around the city, offering a high-quality, competitive and eco-friendly service.
Pedal Power Transport won a cheque for £6,750 to continue to develop their business from Basecamp, the university's dedicated student start-up space.
Two teams of Engineering students shared third place and win £6,000 each and business advice from the SETsquared Business Acceleration Centre. Sam Barrett, Madeline Burke, Leo Morgan, James Gray and Odysseas Pappas are the brains behind Cleatfit, which is an innovative mechanical solution for cyclists to accurately replace the cleats which fasten their cycling shoes to their cycle pedals. This solution provides an affordable way for an expanding market of cyclists to avoid costly injuries.
Tim Ankers, Laura Clare and Will Tiley, George Cusworth, Dave Green and Claire Tobin form the team behind Flare, which designs stylish branded organic cotton bags that use colour-changing technology to highlight when UV radiation from the sun has reached specific intensities.
This year's competition entries were judged by a panel of industry experts from sponsoring organisations including Deloitte, EADS, IP Group, Motorola, Santander, SETsquared Business Acceleration Centre (Bristol), Veale Wasbrough Vizards, and Wyvern Seed Fund.