View all news
Bristol archaeologist publishes book on the gold of Ancient Panama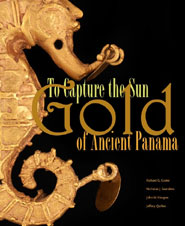 Press release issued: 3 November 2011
A lavishly-illustrated book on the pre-Columbian goldwork of Panama has been published by Dr Nicholas Saunders, lecturer in the University of Bristol's Department of Archaeology and Anthropology.
The book, entitled
To Capture the Sun: Gold of Ancient Panama
, is co-authored by three other world experts, Professors Richard Cooke of the Smithsonian, John Hoopes of the University of Kansas, and Jeffrey Quilter of Harvard University. It accompanies an
exhibition
of the same name at the
Gilcrease Museum
in Tulsa, Oklahoma which runs until 15 January 2012.
Two hundred and fifty gold objects – including pectorals, pendants, animal effigies, bells, and even an astonishingly lifelike sea-horse – were collected by the museum's founder Thomas Gilcrease during the 1940s. The items belong to Panama's Gran Coclé culture which flourished from AD 700 to AD 1500.
The book is more than an exhibition catalogue; it explores the latest archaeological discoveries, the place and symbolism of gold in prehistoric America, and its influence on the world economy in the years after the Spanish conquest.
The cutting-edge chapters address the rise and spread of metalworking in the Americas – including the complex method of 'lost wax' casting, and the creation of gold-copper alloys called tumbaga – the ways in which gold was used to display social status, its role in defining worldview, and its use in funerary rites.
The gold on display came from underground tombs where it adorned the bodies of Panamanian tribal leaders, easing their passage to the afterlife by virtue of the esoteric qualities invested in it.
Dr Saunders' contribution to the book is an anthropological analysis of the role of gold in ancient Panamanian spiritual and material worlds, and its valuation as a multi-sensorial materialization of Amerindian philosophies of light and colour.
Dr Saunders said: "Wearing gold was a dazzling way to capture and manipulate the brilliant light of the sun and the cosmic energy it was believed to contain. New interdisciplinary studies of ancient Panamanian metals are revealing a lost world of meaning – the smell of gold, its connections to human fertility, rainbows, politics, and the sea – a rich story which has only just begun to be told. "
Exhibition: To Capture the Sun: Gold of Ancient Panama. The Gilcrease Museum, Tulsa, Oklahoma, USA. Until 15 January 2012
Book: To Capture the Sun: Gold of Ancient Panama, by Richard Cooke, John Hoopes, J. Quilter and Nicholas J Saunders. Gilcrease Museum and University of Tulsa. 2011.