View all news
New £50million University building to transform a key area of Bristol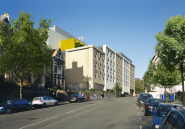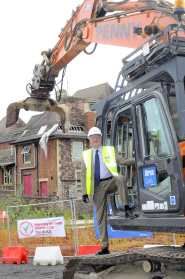 Press release issued: 27 September 2011
Work is underway to create a new £50million flagship research and teaching facility in the heart of Bristol.
Part of the former Children's Hospital on St Michael's Hill is about to be demolished to make way for a state-of-the-art building to house the University of Bristol's
School of Biological Sciences
.
The University's Vice-Chancellor Professor Eric Thomas paid a visit to the site to signify the start of demolition work and the beginning of a new chapter for the prime spot in the centre of the campus.
Architects Sheppard Robson have designed an iconic building, which will replace the disused ward blocks of the Old Children's Hospital, the 1960's Focus Centre and two blocks of houses on the corner of Tyndall Avenue and St Michael's Hill. The listed frontage of the Old Children's Hospital will be retained.
The internal stripping of the buildings began in the summer and building work looks set to be completed at the end of 2013.
It will boast 13,500 square meters of accommodation split into three zones, including a five-storey laboratory wing complete with acoustic chambers, spectroscopy and microscope rooms, clean rooms, a double height plant room and green houses for plant studies.
A central atrium will provide the focal point, leading to both the laboratory wing and a four-storey office wing, which will largely house administration, computer facilities, seminar rooms and a cafe.
It is hoped the central location and cutting-edge facilities will improve collaboration with departments across the University, including the next-door Centre for Nanoscience and Quantum Information [NSQI], other science departments and the Medical School.
The project, being led by Capita Symonds, will also see landscaping outside the building and a new route through to Royal Fort Gardens from St Michael's Hill.
Professor Eric Thomas said: "This investment in Life Sciences is a major move by the University of Bristol in this field and it shows our commitment to becoming the number one choice for biology students across the country.
"It also highlights that Bristol is an exciting place to carry out key research in the future. We are well-placed to lead the way in the fields of crop genomics, plant physiology, animal behaviour, sensory biology and ecosystem structure and conservation."
Professor Innes Cuthill, Head of the School of Biological Sciences, said: "This flagship project, coupled with a raft of new academic appointments, underscores the university's belief that many of the century's most exciting and important scientific advances will come from biology and that the next generation of biology graduates will have unprecedented opportunities.
"The new building will provide outstanding laboratories for science teaching and will enhance the undergraduate experience by facilitating research-led study and staff-student interaction."