View all news
From Bristol schoolboy to leading figure in the world of medicine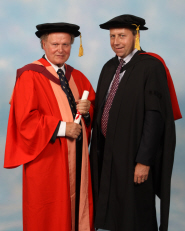 19 July 2011
Bristol University is today [July 19] honouring a proud Bristolian who has become one of the most distinguished figures in academic medicine.
Professor Sir Nicholas Wright, who was born in Langton Street in Bedminster, is an eminent researcher and academic, receiving a knighthood in 2006 for services to medicine.
To mark his achievements, he is to receive a Doctor of Science honorary degree in recognition of outstanding achievement and distinction in a field or activity consonant with the University's mission.
Professor Wright is about to retire from the post of Warden of Barts and the London, one of the country's largest and most prestigious medical schools, where he's worked for the past 10 years.
He has published 241 peer-reviewed papers, 79 reviews, 56 book chapters and has edited or written no less than 11 books.
Despite his career path taking him away from Bristol, he still has strong links with the city having attended Victoria Park Primary School and Bristol Grammar School, where he succeeded in a fast-track O Level course and applied to medical school when he was just 16.
Durham Medical School accepted him straight into the second year before he graduated in 1965 and proceeded to achieve two post-graduate degrees in pathology at the University of Newcastle.
He soon became a senior lecturer and went on to hold a number of esteemed positions at leading research institutions, including his appointment as Director of Clinical Research at the Imperial Cancer Research Fund in 1991.
A strand that runs throughout Professor Wright's remarkable career is the commitment to cancer research, much of it in relation to the gastrointestinal tract and the early origins of life threatening tumours.
His research has focused on tumour biology, looking at the colon and stem cells in the gut. These studies promise to lead to new treatments for various types of gut disease and on stem cells more generally, for instance the ways in which bone marrow transplants lead to repopulation of many different organs of the body.
In addition to his own research, he has supervised 37 successful research students during their work for PhD degrees, and 14 of his trainees have gone on to hold professorships, mainly in pathology.
In 2006 he became President of the Old Bristolians, his old school's alumni association, and championed scholarships to give disadvantaged children access to the same educational opportunities that he himself had had.
Professor Peter Mathieson, Dean of Medicine and Dentistry, is delivering the oration at the ceremony and said: "I hope you will agree that the scholarships that Nick earned as a schoolboy and as an aspiring medical student have represented very good investments.
"Nick is a gifted academic, effective manager, renowned researcher, role model and leader. He brings great credit to Bristol as a son of this city."
Further information
The full oration and official photographs are available on request.