View all news
Oscar-winner Ben walks the golden road to Hollywood via Bristol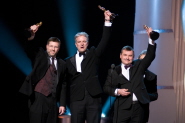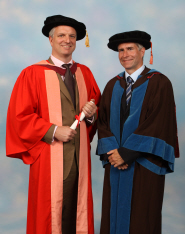 Press release issued: 15 July 2011
Bristol graduate Ben Morris will receive an honorary degree today [15 July] in recognition of his achievements in the film industry.
He will now be a Doctor of Engineering, awarded in recognition of outstanding achievement and distinction in a field or activity consonant with the University's mission.
Ben said: "I feel very proud and humbled to be receiving this honorary doctorate and hope I can inspire more graduates from Bristol to start careers in the film industry."
From being a student at the University of Bristol, his career has flourished and he's worked on some of the biggest blockbusters of recent times, including several of the Harry Potter films, Charlie and the Chocolate Factory and Gladiator.
Ben's passion for computer animation began at the age of seven when he went to see the original Star Wars film, which left him amazed by the wonderfully animated robots and space ships.
He was given a single lens reflex camera by his dad at the age of eight and soon discovered how much fun was involved in making moving films.
He started to make short animated films in his garden shed and went on to study Art, Maths and Physics for A-Level before taking a foundation course in Art and Design.
Having achieved a distinction, Ben decided that a qualification in engineering would complete his skill set and make him well-prepared for a career in film making.
Professor Stuart Burgess, from the Department for Mechanical Engineering, delivered the oration for Ben's honorary degree and said: "Coming to Bristol to study Mechanical Engineering was an inspired choice because the best artists are those who have a deep understanding of the physics of the real world.
"Leonardo da Vinci is the classic example of an artist whose success stemmed largely from his scientific and engineering knowledge."
After graduating in 1992, Ben immediately got a position in Jim Henson's Creature Shop where he worked on the Oscar award-winning film Babe.
But with the world of animation gradually shifting from the use of physical puppets to computer generated characters, Ben decided to retrain and embrace the new technologies.
Professor Burgess added: "At every stage of his career Ben has returned to his engineering background to help model dynamic real-world motion, control complex robotic cameras and mechanical rigs and derive algorithms to simulate lighting, shading and rendering in CG images."
In 1997, Ben worked on the epic movie Gladiator, supervising all motion capture crowd animation and many shots involving the Coliseum. The film went on to win five Academy Awards, including for Best Visual Effects.
He began working for Framestore, the largest visual effects and computer animation studio in Europe, in 2000 and began working on Dinotopia.
During this time he established in-house motion control and motion-base systems to allow real actors to ride on the back of computer generated characters.
Almost exactly ten years after graduating, Ben's work on Dinotopia was recognised when he was awarded an Emmy for Outstanding Special Visual Effects, as well as a Visual Effects Society award.
Over the next few years, Ben built up an impressive film portfolio, including Harry Potter and The Chamber of Secrets, Troy, Harry Potter and The Order of the Phoenix, Prince of Persia, The War Horse – directed by Steven Spielberg – and Gravity.
In 2006, his work on Charlie and the Chocolate Factory was nominated for the award of the Visual Effects Society's Best Single Visual Effect of the Year – specifically for The Nut Room Squirrels.
But it was to be his work on the film version of Philip Pullman's The Golden Compass between 2005 and 2007 that earned him the film industry's most prestigious accolades – both a Bafta and Academy Award in 2008 for Best Visual Effects.
As Visual Effects Supervisor, he was responsible for creating all the computer generated armoured bears and polar environments they lived in.
Challenges included designing and building camera and motion base systems to allow filming of the young actress riding on the back of Lorek, the heroic polar bear voiced by Sir Ian McKellen.
Ben said: "I had a fantastic time studying Engineering at Bristol. In order to augment reality and on occasion create completely new realities you need a solid understanding of the physical world we live in.
"The subjects I studied on my Mechanical Engineering course formed the perfect foundation for my career designing, animating and rendering what is often make believe - Cornish Pixies, the Roman Coliseum, the Greek Armada and Armies, spaceships, talking pigs, Wonka's squirrels and the odd armoured polar bear.
"In particular, the inspiring lectures given by my tutor, Professor David Stoten, in Systems Modelling and Automatic Control taught me many mathematical principles I still use regularly in my work today.
"Aside from the academic studies, Bristol is a brilliant city to live in as a student. My memories of life in Clifton, Cotham, Wills Hall and the surrounding area make me wish there was a bigger film industry in the city, so I could move back with my family immediately."
Further information
The full oration and official photographs are available on request.