View all news
Does exercise help patients with type 1 diabetes?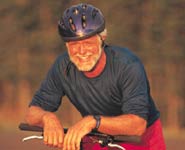 Press release issued: 2 March 2011
A new study to assess the benefits of exercise for adults with type 1 diabetes led by Dr Rob Andrews, Consultant Senior Lecturer in Diabetes and Endocrinology at the University of Bristol's School of Clinical Sciences is about to start in the South West.
Type 1 diabetes is different from type 2 diabetes, which is associated with being overweight and can be treated through diet and tablets initially. Whilst the benefits of exercise have been investigated in type 2 diabetes, it is not known whether the same benefits apply to type 1 diabetes.
The study is being funded through the National Institute for Health Research (NIHR) under its Research for Patient Benefit Programme (RfPB) and will recruit throughout both the South West England and the West Midlands. The South West study will be led by Dr Rob Andrews, Consultant Senior Lecturer in Diabetes and Endocrinology at the University of Bristol's School of Clinical Sciences.
The study aims to investigate the benefits of regular exercise in adults newly diagnosed with type 1 diabetes. In particular it will examine whether exercise can preserve insulin secretion, which is important for controlling blood sugar levels. Controlling blood sugar levels in patients with type 1 diabetes is the cornerstone to reducing the risks of diabetic complications such as blindness and kidney failure.
Dr Rob Andrews said: "We already know that exercise is of benefit for people with type 2 diabetes. Our study aims to find out whether increased physical activity also helps people with type 1 diabetes."
The research will be co-ordinated by the Wellcome Trust Clinical Research Facility, based at the Queen Elizabeth Hospital, and involves the University of Bristol and University Hospitals Birmingham NHS Foundation Trust (UHB), the University of Birmingham and the University of Bath.
Newly-diagnosed patients over the age of 16 will be recruited over two years, starting mid-March 2011, and will remain in the study for a year.
They will be randomly allocated into two groups, with one group receiving normal treatment and the other encouraged to also adhere to a simple and safe exercise programme, which increases their activity levels to 150 minutes per week of moderate intensity exercise – the level recommended by the Department of Health.
The study aims to recruit 60 people with type 1 diabetes - 30 will be recruited from the South West and 30 from the greater Birmingham area.
Further information
1. Type 1 diabetes affects over 250,000 people in the UK, almost twice the number affected with lung cancer, and it carries a worse prognosis than for patients diagnosed with bowel cancer.
2. Type 1 diabetes develops when the insulin-producing cells in the body have been destroyed and the body is unable to produce any insulin. Insulin is the key that unlocks the door to the body's cells. Once the door is unlocked glucose can enter the cells where it is used as fuel. In Type 1 diabetes the body is unable to secrete any insulin so there is no key to unlock the door and the glucose builds up in the blood.
3. Type 1 diabetes can develop at any age but usually appears before the age of 40.
4. It accounts for between 5 and 15 per cent of all people with diabetes and is treated by daily insulin injections, a healthy diet and regular physical activity.
5. In type 1 diabetes the signs and symptoms are usually very obvious and develop very quickly, typically over a few weeks. The symptoms are quickly relieved once the diabetes is treated and under control.
6. Type 1 diabetes is always treated with insulin injections. Insulin cannot be taken in a tablet form because, being a protein, it would be digested in the stomach before it had any effect.
7. Insulin can be given in different ways via an injection, using a syringe, pen device or via an insulin pump.