View all news
'Significant' Tudor painting discovered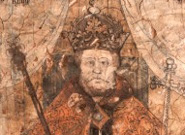 28 January 2011
A Tudor wall painting of Henry VIII, uncovered in a Somerset home when its owners were redecorating, is an enormously significant find according to University of Bristol art historian Michael Liversidge.
The large mural depicts King Henry VIII. It was found at a house in Milverton, Somerset when the owners removed some wooden panels in order to paint the wall behind.
The house was the summer residence of the archdeacons of Taunton who were also prebends of Milverton. It was once home to Thomas Cranmer, Archdeacon of Taunton in the fifteenth century.
Michael Liversidge said: "This is a stunningly exciting find of national importance. The painting still needs to be dated precisely, but nothing like it has come to light before. It is particularly interesting because it tells us about the way in which the royal image was circulating at the time and how it was used as an expression of loyalty to the king and as propaganda by the crown."
Layers of ancient plaster and mortar hiding the mural were removed by conservators prior to cleaning the painting and filling in holes behind the crumbling façade.
Images of the wall painting can be seen on BBC News Somerset.