View all news
Naming and shaming schools works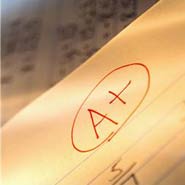 Press release issued: 2 November 2010
The publication of league tables raises average school performance, according to new research from the University of Bristol, which found significant improvements in academic ratings after the policy was introduced.
Researchers from Bristol's
Centre for Market and Public Organisation (CMPO)
compared the educational outcomes in England, where league tables of secondary schools are published, and Wales, where they have been abolished.
Their findings revealed that the average effect of abolishing league tables is substantial, a fall of almost two GCSE grades per pupil per year. This decline in performance was found to be important for the lowest performing 75% of schools, but not for the top quarter of schools.
Publishing school league tables was therefore shown to both raise average school performance and reduce educational inequalities.
Co-author and CMPO director Professor Simon Burgess said: "School accountability policies such as league tables seem to be a cost-effective way of raising school performance, particularly for students in disadvantaged schools and neighbourhoods."
The research exploits the 'natural experiment' created by the abolition of secondary school league tables in Wales in 2001, and compares educational outcomes in England and Wales before and after the policy change, enabling an analysis that isolates the impact of removing league tables from two otherwise near-identical education systems.
This affects all schools except the top 25% performing schools. And the impact is strongest among schools with the most students eligible for free school meals: the poorest 25% of Welsh schools, for example, show a fall of three GCSE grades per pupil per year.
Further information
The paper, A natural experiment in school accountability:the impact of school performance information on pupil progress and sorting, by Simon Burgess, Deborah Wilson and Jack Worth is available from the CMPO website via the following link: http://www.bristol.ac.uk/cmpo/publications/papers/2010/wp246.pdf