View all news
Bristol botanist wins Linnean Society prize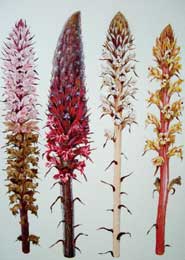 26 May 2010
Dr Christopher Thorogood of the School of Biological Sciences has been awarded the 2010 Irene Manton Prize by The Linnean Society of London for his thesis on parasitic plants.
The Irene Manton Prize is awarded for the best thesis in botany examined for a doctorate of philosophy during a single academic year (September to August). Dr Thorogood was named the winner by the President of The Linnean Society, Dr Vaughan Southgate, at the 222nd Anniversary Meeting of the Society this week.
Dr Christopher Thorogood conducted his doctoral research under the supervision of Professor Simon Hiscock at the University of Bristol's School of Biological Sciences. His thesis entitled 'Host Specificity and speciation in the holoparasitic angiosperm Orobanche minor Sm. (Orobranchaceae)' was largely based on his own ideas and his passionate interest in parasitic plants, particularly broomrapes
In addition to his scientific achievements, Chris is also a botanical illustrator and has exhibited botanical watercolour and oil paintings at the University of Bristol Botanic Garden. He used these skills to illustrate parts of his thesis with pen and ink drawings of floral anatomy, and other features of parasite morphology
The Linnean Society aims to promote and encourage the study of all aspects of the biological sciences, with particular emphasis on evolution, taxonomy, biodiversity and sustainability. The Society acknowledges and encourages excellence in all of these fields through the presentation of medals and awards for outstanding scientific work and published botanical illustrations. Each year, exceptional scientists and artists are honoured.
Prior to the presentation of the awards, Dr Vaughan Southgate warmly congratulated all the winners, saying "The work of the recipients of the awards advances the science of natural history in all its branches, the core mission of the Society."
The Linnean Society of London is the world's oldest active biological society. Founded in 1788, the Society takes its name from the great Swedish naturalist, Carl Linnaeus (1707-1778) who developed the system of binominal nomenclature. This system today provides the fundamental framework for knowledge of the biota of the Earth, supporting effective conservation measures and the sustainable use of biodiversity.
The Society is the custodian of Linnaeus' original library and collections and is creating a digital archive, enabling full global access. It encourages and communicates scientific advances through its three world-class journals, open meetings and website. The Society's Fellowship is international and its Fellows are drawn from all walks of life including professional scientists and amateur naturalists. The Society welcomes anyone interested in natural history, in all its forms.