View all news
Antibiotics have significant resistance effects on individual patients in primary care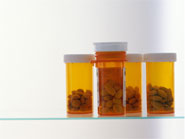 Press release issued: 19 May 2010
Antibiotics prescribed in primary care make a considerable contribution to the problem of antimicrobial resistance, both in individual patients and the population as a whole, according to research from the University of Bristol published in this week's BMJ. GPs and patients should consider these effects when prescribing and consuming antibiotics, the researchers urge.
Globally, primary care is responsible for the majority of human antibiotic use. Although many countries have succeeded in reducing prescribing rates, significant variations remain between countries. Antibiotic resistance is not seen by most clinicians or patients as a reason to refrain from antibiotic use, with many regarding the problem as minimal or theoretical.
Dr Alastair Hay and colleagues reviewed and analysed 24 studies into antibiotic resistance in individuals prescribed antibiotics in primary care. They found that patients consistently developed urinary and respiratory bacterial resistance to those antibiotics, which included amoxicillin and trimethoprim, two of the most commonly prescribed first-line antibiotics. Such resistance could last for up to 12 months, and the greater the number of antibiotic courses prescribed in the previous 12 months, the higher the chances resistant bacteria would be found in the patient.
While a number of previous studies have investigated the relationship between prescribing and resistance using population level data, this study is the first systematic review of research into the impact of emergent resistance on individual patients.
Dr Hay said: "Resistance to antibiotics is a major threat to public health. In general practice, there are concerns that some common infections are becoming increasingly difficult to treat and that illnesses due to antibiotic- resistant bacteria may take longer to resolve. This has the potential to lead to a vicious cycle of increasingly powerful antibiotic use with the subsequent emergence of further antibiotic resistance.
"There are a number of important initiatives trying to reduce the inappropriate use of antibiotics, but there are many barriers to this, including patient and practitioner expectations, lack of patient awareness of the problems caused by antimicrobial resistance and a perception among both primary care clinicians and patients that antibiotic resistance is not really a problem.
"Although it is not clear why such views should be held, it may in part be because previous studies have tended to investigate the relationship between prescribing and resistance using population level data. Consequently for clinicians, whose primary concern is the unwell individual, the impact of antibiotic use on the prevalence of societal resistance may not be an important consideration. To reduce prescribing, it is therefore important to highlight the impact of antimicrobial use on emergent resistance for individuals.
"We hope our research will help to do this. It has identified a number of studies that together provide strong evidence of an association at the individual patient level between the prescribing of antibiotics in primary care and antimicrobial resistance. Primary care clinicians and patients may wish to consider this evidence when discussing the benefits and risks of prescribing and consuming antibiotics."
The effect of antibiotic prescribing on antimicrobial resistance in individual patients in primary care: a systematic review and meta-analysis by Céire Costelloe, Chris Metcalfe, Andrew Lovering, David Mant, Alastair D Hay BMJ
The research work was undertaken by the University of Bristol in collaboration with the University of Oxford who both received a proportion of their funding from the Department of Health's NIHR School for Primary Care Research.