View all news
Andrew Hook 1948-2010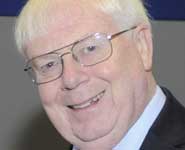 23 February 2010
Andrew Hook, a technician in the Department of Earth Sciences, died suddenly at home on 13 February. Dr Mary Benton and Dr Liz Loeffler remember a 'gentle champion of undergraduates' who will be greatly missed.
Born and brought up in Bristol, Andrew joined the Department (then Geology) in 1969 as a junior technician. Initially his responsibilities included cataloguing of museum specimens, writing by hand in huge ledgers. His youth and strength, combined with terrible handwriting, soon resulted in his being redeployed into shifting and sieving sediment samples for the Marine Geology Research Group. Only after a long period in this role was he allowed to assist in the laying out of practical classes. Here he found his niche and was soon given responsibility for the first-year teaching labs; by the time he died, he was the only technician with responsibility for teaching.
Andrew was very skilled in dealing with and maintaining equipment, especially electrical equipment and microscopes. He kept our ageing and eccentric stock of petrological microscopes in working order long after it became impossible to obtain spare parts from their manufacturers. When the Department still had its own vehicles, he kept those in good order too, often driving them on field trips. He enjoyed and mastered new technology, moving from manual slide projectors through to digital projectors and visualisers.
However, it was as a decent human being that Andrew really stood out. He was assiduous in his care of undergraduates and was a gentle champion of them. For him they were the most important people in the University. They knew this and loved him for it. Colleagues appreciated his tolerance of their last-minute requests and demands, which were always met with courtesy. He didn't say 'no' lightly and was often to be found working late to make sure that everything would be in place for a nine o'clock start or an early-departing field trip.
Andrew had a busy life outside the University. He was much involved with the Great Western Railway Society and was an expert on signalling systems. He had an encyclopaedic knowledge of railway timetables, and was a faster and more reliable source of information than any website. He had a strong faith, which was evident in all his dealings with people, and was an active member of Christ Church Hengrove.
His death was untimely, and particularly sad, as he was full of plans for an active retirement travelling with his wife Vivienne and building a scale model steam railway in his garden.