View all news
Searching for community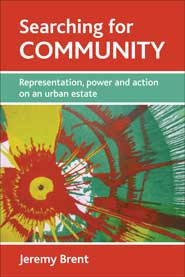 13 May 2009
A new book published today by The Policy Press at the University of Bristol tackles the question 'What is community?'.
In Searching for community, the author, the late Jeremy Brent, draws on 30 years' experience as a youth worker in Southmead, a housing estate in Bristol and a place where community feelings run strong.
Community breakdown, especially in cities, is often blamed for youth crime, social marginalisation, gang culture and violence. But what is community? Brent argues that in the modern globalised world, 'community' is an unattainable goal. Forms of community do, however, appear through the ideas, aspirations and actions of an area's residents, their conflicts and their need to belong.
In the book, Brent brings the experience of youth work alive and gives a real 'feel' of what it's like to live in a community like Southmead. He highlights what has been done in Southmead to improve 'community' and examines ways to understand this difficult concept. Based on his experience, he suggests several important ways to engage young people:
giving them local networks of support;
embracing collective activity, especially expression through artistic activities;
recognising young people as users of public space and involving them in its design;
recognising the rights and values of young people, involving rather than controlling them.
For further information, please contact Jessica Hughes on 0117 331 4096, email jessica.hughes@bristol.ac.uk.
Further information
1. 'Searching for community' by Jeremy Brent is available to buy from www.policypress.org.uk or from Marston Book Services, PO Box 269, Abingdon, Oxon OX14 4YN (01235 465500) price £19.99 (paperback), £60 (hardback) plus £2.75 p&p. 2. Jeremy Brent was Senior Youth Worker at Southmead Youth Centre in Bristol for 28 years. He supported his intellectually reflective practice through studies at Birmingham University and the University of the West of England. He published several articles in community and youth work journals and was an active member of the Community and Youth Workers' Union. He died in 2006. 3. Paul Hoggett, Professor of Politics, University of the West of England, Bristol, was closely involved with Jeremy Brent's work. He can be contacted on 0117 328 2932, email paul.hoggett@uwe.ac.uk. 4. The Policy Press is a leading social science publisher based at the University of Bristol.