View all news
Bristol University Milestone for Deaf People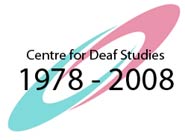 Press release issued: 25 September 2008
This week the University of Bristol celebrates 30 years of work with Deaf people.
This week the University of Bristol
celebrates 30 years
of work with Deaf people. In 1978, Deaf people were a poorly understood, ignored minority. Now, after extensive research, their profile is enormously raised in academic research, in social policy and directly through special services from the University itself. Uniquely, in Europe, Deaf people themselves have been at the heart of the development since the beginning.
Groundbreaking work on Deaf infants and children, on linguistics, on the community (both in the UK and throughout Europe) will be featured in events in the University and at the Watershed in Bristol.
Academic research under the heading of 'Deafhood and Deaf Lives' will be presented in a major national conference, on Friday 26 September, at the University's Wills Memorial Building, with guest presenter, Ben Bahan, American Deaf raconteur and social researcher.
On Saturday 27, in an event open to the public, there will be an exhibition and hands-on display, presentations, sign language film competition, and a look at the lighter side of the evolution of Bristol as a focal point for Deaf issues.
Lorna Allsop, Director of the University's Centre for Deaf Studies, said: "The study of Deaf issues has become firmly associated with Bristol and the profile we have is international. Although Bristol was one of the last cities in Britain to have a Deaf school (in the 19th century), it has broken the mould in Deaf-led and Deaf-focused research and provision.
"We have students and visitors from all over the world and we provide daily news and information to Deaf people. We refer to the experiences of Deaf people as 'Deafhood', a term which has now become accepted throughout the world. These events give us a chance to demonstrate the extent of the advance for Deaf people led by the University."
Jim Kyle, Harry Crook Professor of Deaf Studies in the Centre for Deaf Studies, added: "Research work over the last 30 years in language, community and culture of Deaf people has created the base of knowledge upon which we can build effective services to families of Deaf children, to schools and to the community as a whole. The research has been presented in books, research papers, conferences, study visits and on television. Now we have developed the technology to reach Deaf and hearing people online, to provide sign language teaching at a distance and to pioneer video telephony. These events in Bristol offer a chance for people to sample these developments and achievements."
The conference will be held at the Wills Memorial Building, University of Bristol, on Friday 26 September from 9 am. The free public event is at the Watershed, Harbourside on Saturday 27 September from 9.30 am.
Further information
For further details on the Centre for Deaf Studies 30th anniversary celebrations, contact Paul Wild, Centre for Deaf Studies, University of Bristol, tel 0117 954 6900.