View all news
Heart attacks and nerves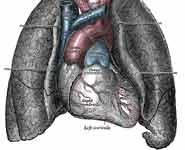 Press release issued: 15 November 2007
Scientists have found a naturally occurring protein, known as nerve growth factor, can dramatically improve the survival of heart cells.
Scientists have found a naturally occurring protein, known as nerve growth factor, can dramatically improve the survival of heart cells.
Nerve growth factor (NGF) was once thought to act only on nerve cells in the body, but this study shows that it can have a protective effect on heart muscle cells in a heart attack model – the first time this has been shown.
The research, published in the current online issue of the journal Cell Death and Differentiation, was funded by the British Heart Foundation and led by Dr Costanza Emanueli, Senior Research Fellow at Bristol University and her colleagues at the Bristol Heart Institute.
Growth factors are naturally occurring proteins that stimulate normal body processes of cell growth, division and differentiation. Some act on many different cell types within the body, whereas others are specific for a particular type of cell. NGF normally controls nerve cell survival and regeneration and was for a long time of interest only to neuroscientists.
Dr Emanueli's group at the Bristol Heart Institute, based in the Bristol Royal Infirmary, first performed in vitro studies showing that NGF was protective in cultures of heart cells. They then expanded these studies to a heart attack model in rats, which closely mimics what happens in a heart attack in humans, by tying off one of the arteries supplying the heart with blood.
In a human, this would happen as a result of a sudden blockage of the artery due to a build-up of cholesterol and fatty material within a blood vessel rupturing and blocking the artery. This causes a massive cell death in the immediate region of the blockage, but also has a later effect in causing cell death in the area around the blockage. This results in the remaining live cells in that area having to adapt by increasing in size, leading to enlargement of the heart and eventual heart failure.
Dr Emanueli found that injecting the gene for NGF into the region around the dead cell area promoted survival of the cells in that region, compared to hearts not treated with NGF, a week following injection of the NGF gene.
Dr Emanueli, commenting on the research, said: "This is the first time that a pro-survival effect in the heart of NGF has been found. Some other growth factors are already used clinically to treat different diseases, and our study shows that NGF may be a novel way of protecting the heart from further damage following a heart attack."
Further information
Publication details: A Caporali, G B Sala-Newby, M Meloni, G Graiani, E Pani, B Cristofaro, A C Newby, P Madeddu and C Emanueli, "Identification of the prosurvival activity of nerve growth factor on cardiac myocytes"Cell Death and Differentiation, online 9 November 2007. Bristol Heart Institute, University of Bristol, Bristol Royal Infirmary, Bristol, BS2 8HW, UK.
Costanza Emanueli holds a British Heart Foundation Basic Science Lectureship and the work was funded by the British Heart Foundation. The Bristol Heart Institute consists of over 200 researchers and clinicians in the University of Bristol and Bristol NHS Trusts. As well as improving collaboration between scientists and clinicians within the Institute, the aim is to communicate research findings to the public. For more information on research at the Bristol Heart Institute, see http://www.bris.ac.uk/bhi
The British Heart Foundation (BHF) is the nation's heart charity, dedicated to saving lives through pioneering research, patient care, campaigning for change and by providing vital information. But we urgently need help. We rely on donations of time and money to continue our life-saving work. Because together we can beat heart disease. For more information visit www.bhf.org.uk