View all news
George W Brandt, 1920-2007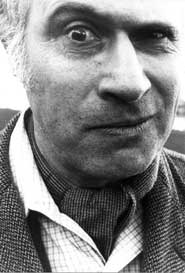 31 October 2007
Emeritus Professor of Drama, George Brandt, died on 24 September. Martin White and John Adams review the life and career of this 'remarkable and lovable man'.
Emeritus Professor of Drama, George Brandt, died on 24 September 2007, shortly before his 87th birthday, and is survived by his wife Toni, children Peter and Maya, and grandchildren Ted, Izaak and Magnus. George served the University of Bristol from 1951 until his retirement in 1986. The cinema in the Department of Drama is named after him, and a handsome blue plaque on the wall pays tribute to his distinctive achievement in having introduced practical film and television studies to British universities.
Born in Berlin in 1920, George and his family left Germany shortly after the Nazis came to power and eventually arrived in England, where George attended King Alfred's school in Hampstead before going on to study Modern Languages at University College, London.

At the end of his second year, the outbreak of war forced the evacuation of the University's Arts Faculty to Aberystwyth. In the panic following Dunkirk, George was seized as an alien and put before an internment tribunal, but successfully pleaded to be allowed to take his final exams before being interned, first at a camp near Liverpool and then for 16 months at a camp in Canada.
After gaining an MA from the University of Winnipeg, in 1945 he was invited by the legendary documentary film maker, John Grierson, to join the National Film Board of Canada, where he wrote, directed and edited documentaries. In 1949 he married Toni, a Canadian, and shortly after they returned to London. George worked as a freelance scriptwriter before he was appointed in 1951 as a Junior Fellow in the fledgling Department of Drama at Bristol, which had been established some four years previously. There, with Glynne Wickham and George Rowell, he helped devise how this new discipline in UK universities would be taught. From the outset, one of the Department's main convictions was that drama was a laboratory subject that involved practice as well as library study, and George directed a wide variety of stage, radio, film and television productions, took several acting roles (including a memorable Groucho Marx look-alike as Marlowe's eponymous Jew of Malta), and played a key part in the staging of Harold Pinter's first play in Bristol in 1957.
His first love though, was film and television, and when the foundation of a National Film School (NFS) was mooted in the late 1960s, George campaigned vigorously for it to be located in Bristol. When it was decided to locate the NFS in Beaconsfield, George decided to found a professionally focused Diploma in Radio, Film and Television in the Drama Department, which still flourishes, now as the MA in Film and Television Production. He ensured wide exposure for the students' work through initiatives such as an agreement with the regional BBC to transmit an annual documentary film from the mid-1970s to the mid-80s. In 1971 he was appointed to the newly created post of Director of Film Studies. However, it has to be admitted that George had a love–hate, and mutually distressing, relationship with film technologies: camera, edit table and projector all seemed designed to thwart his ambitions to thread film through their intricate mechanical pathways. Nevertheless, George was an outstanding film editor and innumerable students benefited from the challenging but generous attention he would give to the rough cut of a first film, pushing the aspirant film maker to discover new creative possibilities with sometime tough, but always perceptive comment on how to achieve a professional, creative, frame-accurate approach to questions of structure, rhythm and timing.
He published widely on theatre, film and television. His edited volume British Television Drama (1981) for Cambridge University Press (CUP) was one of the first books to approach the subject as a serious academic study, followed by British Television Drama in the 1980s (1993). Following retirement, and no longer with a punishing teaching schedule, he published German and Dutch Theatre, 1600-1848 (1993) in the indispensable CUP series 'Theatre in Europe', and Modern Theories of Drama (Oxford University Press, 1998). He contributed to The Continuum Companion to Twentieth Century Theatre (2002) and articles for New Theatre Quarterly on subjects as diverse as Bristol's Shakespeare at the Tobacco Factory Company (2002) and the first staging, in 1782, of The Robbers by Friedrich Schiller (2006). Despite his illness (he had been diagnosed with prostate cancer in 2004), George kept up his wide range of research and writing interests, completing his final commission shortly before his death and, as always, absolutely on schedule.
Following his retirement in 1986, George, often with Toni, continued to attend departmental and University events and was a particularly active supporter of the University Theatre Collection. He also continued to lend his voice to a wide range of campaigns, protesting in the 1990s against what he considered inappropriate building developments on Bristol's harbourside, and more recently against the war in Iraq. He was a distinctive figure around Clifton in his signature dark blue mac and beret, where a chance encounter with him always left you smiling, and intellectually invigorated.
George himself chose the music for his funeral, which started with the overture from Citizen Kane and concluded with 'Give a little whistle' from Disney's Pinocchio, his two favourite films. That in itself tells you something of the breadth of his taste, his total lack of pomposity, his infectious sense of fun, his wit. George is remembered by all those he taught or with whom he worked for these qualities, as well as his extraordinary physical vigour (he was a brown belt in judo) and intellectual rigour. He was bilingual in English and German, fluent in French and Spanish, spoke good Italian and Dutch, and in the early 1980s learned Japanese while a visiting professor at Shizuoka University. He was also a brilliant extempore speaker, and anyone who benefited from a tribute from George was fortunate indeed.
George once wrote of film and television that it should 'be able to relate individual experiences to an implicit moral structure and scale of values, able to broaden the viewer's sympathies beyond their normal confines, to lead them to a greater insight into interpersonal and social relationships, to educate their feelings through laughter, suspense, empathy or whatever, by means of images as well as words'. George not only taught, but demonstrated what it was to be human and engaged. There is a line in the Pinocchio song, 'Always let your conscience be your guide': it is a fitting motto for the life of this remarkable and lovable man.
Martin White and John Adams