View all news
Honorary degrees awarded today [Tuesday 17 July]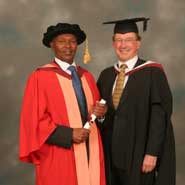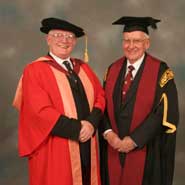 Press release issued: 17 July 2007
Bristol University is awarding honorary degrees to Mr Kipchoge Keino and Councillor Bill Martin at today's degree ceremonies in the Wills Memorial Building [Tuesday 17 July].
Bristol University is awarding honorary degrees to Kipchoge Keino and Councillor Bill Martin at today's degree ceremonies in the Wills Memorial Building [Tuesday 17 July].
Kipchoge 'Kip' Keino, President, Kenyan Olympic Committee, former Olympic long-distance runner and gold medal winner, will be honoured with the degree of Doctor of Laws at the 11.15 am ceremony.
The degree is in recognition of his outstanding career as an Olympic athlete and gold medal winner and his work with orphans and other young people in Kenya.
Kip was born in Kipsamo in Western Kenya. Both his parents died when he was young and he was brought up by his aunt.
After school, Kip trained for the police, later becoming a Kenyan Police Physical Training Instructor. It was while in the Kenyan force that he began what was to be his lifelong devotion to aiding young children.
In 1965 he broke the world 3,000 metres record by six seconds in his first attempt at the distance. He broke the world 5,000 metres record two months later, and in the 1966 Commonwealth Games he won two gold medals.
At the 1968 Mexico Olympics, he won Olympic Silver in the 5,000 metres, and his first Olympic Gold in the 1,500 metres. In the 1972 Munich Olympics, Kip entered the 3,000 metres steeplechase, an event he had rarely run, and won his second Olympic Gold.
Kip retired from the track in 1973 when athletics had only just become professional. He and his wife, Phyllis, had $20,000, enough to buy some farmland in Eldoret on which they built a house. This was to become the family home - a large extended family, and a home where all the children made a contribution.
After purchasing land on the other side of town, they were able to build a primary school catering for over 300 children, adding another home for more orphans. Parents in the area want their children to be educated there, alongside the orphans, and it is now recognised as the best primary school in the region.
The Kip Keino Secondary School will open in 2008, offering education to around 400 children, including the orphans. It will have an emphasis on sport. Associated with it is a training centre for elite athletes aged between 14 and 18, who will receive scholarships and an excellent education alongside athletics opportunities. The Kip Keino Foundation encompasses the orphanage, schools and farm.
Kip has been Chairman of the National Olympic Committee of Kenya for a decade and he is a leading member of the International Olympic Committee.
Earlier this year, in Bristol, he signed an agreement linking the City of Bristol with Kenya in a multi-faceted project leading to the London Olympics of 2012. This four-year project will twin Bristol and Kenyan schools, establish opportunities for Bristolian and Kenyan sportsmen and women, explore the possibilities for collaboration in commerce and provide support for the Kenyan Olympic team up to the London Games.
Councillor Bill Martin, former member of University Council and former Lord Mayor of Bristol, will be honoured with the degree of Doctor of Laws at the 2.30 pm ceremony.
The degree is in recognition of his service to the University and to the wider local community.
The list of community services in Bristol with which Bill has become involved over the past 25 years runs to some 42 entries, from Age Concern to sports trusts, from infant schools to universities.
Bill has been involved with the Centre for Deaf People in Bristol for 22 years, first as Administrator and, since 1990, as its Chief Executive. He has also been involved with a network of other bodies working in the same areas.
In the civic life of Bristol, his title is that of Alderman of the City and County of Bristol. He was twice Lord Mayor of Bristol, serving in that role from 2002 to 2004. As Lord Mayor, Bill was First Citizen of Bristol and Chairman of the City Council, senior Pro Chancellor of the University of the West of England and Chief Pilot and Port Admiral of Bristol.
Bill's party-political career extends back to the late 1970s as a representative of the Labour Party within the City Council and in association with another district council and his constituency association.
He is a well-known figure at the University of Bristol, having served as a member of University Court for 26 years and as a member of Council, the governing body, for 13 years. He is also an honorary fellow of Bath Spa University.
Further information
An honorary degree is a major accolade, awarded in recognition of outstanding achievement and distinction in a field or activity consonant with the University's mission.