View all news
Dr Beryl Corner, 1910-2007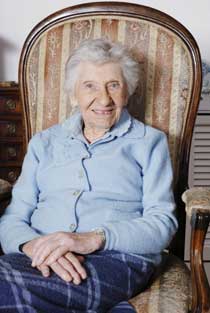 19 March 2007
The paediatrician Dr Beryl Corner, a former Lecturer in the Diseases of Children who was awarded an Honorary MD by the University in 1996, died on 4 March. Dr Martin Crossley Evans contributes this account of her life.
Dr Beryl Dorothy Corner, OBE, JP, MD, FRCP, who died on 4 March 2007 at the age of 96, dedicated her long career to public service and the welfare of her patients. Her firm Christian faith was the corner-stone of her life and she triumphed against prejudices and constraints which would have crushed a person less determined and without such deeply held convictions. Through persistence, ability and hard work, she carved out a career in medicine in the face of considerable male obstruction and hostility. While one well-known Professor of Medicine was only finally converted into a friend following his retirement, other Bristol consultants were won over more readily, and grew to respect her achievements, energy and powers of innovation.
Born on 9 December 1910 in Henleaze, Bristol into a distinguished Bristol Nonconformist family, Dr Corner was immensely proud of her great grandfather, George Corner, who rose from humble beginnings in North Yorkshire to become one of Bristol's foremost merchant princes, the first chairman of Portishead District Council and a magistrate for Somerset. He combined shrewd business acumen with keen philanthropy. As a tea, coffee and cocoa merchant, he championed coffee and cocoa taverns, which had been established as an arm of the Temperance Movement in the second half of the nineteenth century. He was a generous benefactor to many of the major Congregational churches built in Bristol at this time, laying many of their foundation stones, and supported the Seamen and Boatmen's Friend Society and numerous other good causes. His children and grandchildren inherited his love of music and literature, and his firm commitment to Christianity and to effective, considered and unostentatious philanthropy.

Dr Corner attended Redland High School for Girls from 1918, winning all the form prizes every year. She had great respect for many of her teachers, including the inspirational Headmistress, Miss Clara Millicent Taylor, and for Miss Elizabeth Sturge, a member of an old Quaker family and one of the school's Vice-Presidents. She maintained a lifelong affection for and interest in the school, serving as Vice-President and Chairman of Council between 1986 and 1989 and as President of the Association of Redland High School, and was tireless in promoting the school to which she acknowledged she owed the origins of her own success.
Dr Corner fulfilled her wish to become a doctor by obtaining a place at the London School of Medicine for Women, and graduated in 1934, winning five of the final-year clinical prizes. In the following year she became the first doctor in Britain to successfully treat a baby with haemolytic streptococcal septicaemia using an early sulphonamide, Prontasil. In 1936 she was awarded her MD by the University of London and gained her MRCP before taking up posts as honorary physician to outpatients at the Bristol Royal Hospital for Sick Children and Women in 1937, and honorary consultant paediatrician to the Bristol Maternity Hospital in 1942. By this time she was the only paediatrician in the south-west region and looked after acute children's beds in the blitzed children's hospital in Bristol and an emergency hospital in Weston-Super-Mare. She also served as the Air Raid Precaution doctor at the Bristol Aeroplane Company and often had to sleep on the premises to deal with emergencies.
At the end of the war the problem of the high rate of mortality among premature babies was addressed by the establishment, in January 1946, of a premature baby unit (later called the neonatal intensive care unit) at Southmead Hospital, Bristol, only the second such unit in the country. It was here on 12 June 1948 that the Good quads were delivered by caesarean section at 36 weeks; Dr Corner was responsible for their neonatal care and formed a life long friendship with them. With the creation of the United Bristol Hospitals in 1948, Dr Corner became one of its two paediatricians, the other being Dr A Victor Neale, the Professor of Child Health. She played a major part in the training of nurses, midwives and medical undergraduates and postgraduates at Southmead from 1949 onwards, teaching generations of students. She numbered among her house officers Dame June Lloyd and Dr Derek Zutshi, the former Chairman of the Convocation of the University.
In 1945 Dr Corner was elected one of the first women members of the British Paediatric Association. She also became a founder member of the Neonatal Society and the first woman President of the Royal Society of Medicine's Section for Diseases in Children. Her research included the incidence of rickets in babies and she was one of the first doctors to successfully treat a newborn baby with rhesus haemolytic disease by injecting rhesus negative blood into the baby's bone marrow. She was also able to put her experience to good use at Bristol Zoo and provided neonatal care to the gorillas and orang-utans born there, serving as honorary consultant paediatrician to the Bristol Zoological Society between 1972 and 1980.
Dr Corner made many visits to the Far East, mainly under the aegis of the British Council and the World Health Organisation, to advise and organise seminars on the problems of the newborn. Her first tour was in 1962 when she visited Hong Kong, Thailand, Sri Lanka and India, which she was to visit a further 13 times. She subsequently made a memorable trip to Burma and during another had to compile a report for the Sultan of Brunei that involved travel by helicopter and dug out canoe, and a meeting in a long house with the local headman. She always took the opportunity while abroad to attend Christian worship, even though this was sometimes hazardous.
In 1967 she served as President of the Medical Women's Federation of Britain and in 1978/79 as President of the Medical Women's International Association. She became a senior fellow of the Royal College of Physicians and took great pleasure in her position. She was active in numerous national and local medical societies, and had a great interest in medical history. She was a founder member of the Bristol Medico-Historical Society (1986) and contributed to both its volumes of Proceedings, including an important paper on The Beginning of Neonatology in Bristol. During her presidency the Society hosted the 17th Congress of the British Society for the History of Medicine at the University of Bristol in 1997, when she presented an important paper on Dr Elizabeth Blackwell 1821-1910: The First Woman on the U.K. Medical Register 1850.
Her association with the University of Bristol spanned 70 years from her appointment as a Lecturer in the Diseases of Children in 1937, and she was examiner in Child Health between 1949 and 1976. She regularly attended meetings of the graduate body, Convocation, and in 1996 was awarded an honorary MD. In the summer of 2006, her contribution to the University was further celebrated when the Convocation committee held a dinner in her honour at which representatives of many of the city societies with which she was connected were present. The toast to her was proposed by Sir Alexander Macara, former chairman of the British Medical Association. Her work was also recognised by the University of the West of England in 2000 by the award of an honorary Doctor of Science. In 2006 the government belatedly recognised her outstanding contribution to paediatrics and she was awarded the OBE.
Dr Corner was a magistrate for the city and county of Bristol from 1962, retiring in 1980 having served on numerous committees. She took an active interest in the reform and rehabilitation of offenders and served as chairman of the Bristol Probation Case Committee between 1974 and 1980. She remained a member of the Magistrates' Association following her retirement from the bench.
One of her passions was music. She learned the violin whilst a girl and studied under the well-known Bristol violinist, Maurice Alexander, who advised her to concentrate her talents elsewhere. She joined the Bristol Music Club in 1944 and was present at the memorable concert when Dr Hubert Hunt (1865-1945), the organist of the cathedral, collapsed and died immediately after playing the last note of a quartet on his violin. When the President of the Bristol Masonic Society, the anaesthetist, Dr J A Bennett, organised a concert to commemorate the life and work of Dr Hunt, 'Musician and Mason', in Bristol Cathedral in May 2002, Dr Corner's vivid and detailed recollection of him was a highlight.
Dr Corner served as chairman of the Bristol Music Club between 1978 and 1980 and again from 1982 to 1984, and was a member of the club's board of trustees. Through music she formed many close friendships, including those with Miss Enid Hunt, Miss Liselotte Leschke (the club's Secretary from 1973-79) and Professor Arthur Tyndall, FRS. She took up the violin again in retirement and played both in the club orchestra and the orchestra of Christ Church, Clifton, well into her nineties. One of her most memorable lectures, entitled 'The Childhood of Beethoven', combined two of her great loves and led to her travelling to Bonn in the company of Miss Leschke to undertake her research in Beethoven's home city.
Dr Corner was one of the first four women to be admitted to membership of the Bristol Scientific Club, founded in 1886. She was an active member for more than 40 years, and served as President on three occasions. She delighted in the club's activities and the opportunities they provided for meeting some of the leading scientists in Bristol and she formed lasting friendships with men such as Sir Alfred Pugsley, the civil engineer, Sir Charles Frank, FRS, the physicist, and Professor Roderick Collar, the aero dynamist. She was also actively involved in the Portfolio Society, founded in the 1860s by Miss Sturge, who had been such a source of inspiration to her while at Redland High School, presenting papers, hosting meetings and serving as President on many occasions. At its convivial and relaxed meetings, she numbered among her friends the redoubtable Dr Elizabeth Ralph, FSA, the City Archivist between 1937 and 1972, whose struggles with a male-dominated, autocratic, and often dismissive city council mirrored her own experiences in medicine. Dr Corner's other interests included the English-Speaking Union, the Friends of Bristol Art Gallery, the National Trust and the National Art Collections' Fund.
Inspiring and indefatigable, in her latter years Dr Corner triumphed over two broken hips and spells of ill health and continued her full and active life until shortly before her death, lecturing, attending conferences and speaking about her life's work. Through her astonishing recall of past events, she provided a window into life in Bristol at a time when motor cars were rarities, women wore hobble skirts and were without the vote, and many houses were still lit by oil lamps. Generous with her praise, wise, warm, compassionate and gregarious, her many friends, while poorer for her passing, have been greatly enriched by her example of loyalty and dedicated service. Our thoughts are with her nieces and their families at this time.
M J Crossley Evans