View all news
Professor Leslie Hepple, 1947-2007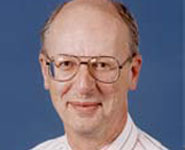 14 February 2007
Leslie Hepple, Professor of Geography in the School of Geographical Sciences, died suddenly on 1 February at the age of 59. Professor Peter Haggett offers his reflections on the life of one of the School's finest scholars.
Les died from a heart attack on Thursday 1 February 2007 at the age of 59. Generations of Bristol students will mourn the loss of an outstanding teacher who tackled difficult topics with surefooted guidance and a minimum of fuss and flannel. Colleagues will mourn the loss of a quiet, unassuming and courteous man who was an unchanging rock of calm good sense and high scholarly standards within a rapidly changing university world. Scholars around the world will miss the steady flow of beautifully crafted papers which illuminated their own studies. Despite his many years at Cambridge and a third of a century in the West Country, he never lost his gentle Tyneside accent nor his love for the Northeast.
Leslie Wilson Hepple was born on 24 July 1947 in Tynemouth. He entered the Royal Grammar School, Newcastle, from his local school in Whitley Bay in 1958 and - after a brilliant RGS school career - won an open scholarship to St Catharine's College, Cambridge, in 1966. He was part of an outstanding group (including Bob Bennett) studying for the Geographical Tripos under the renowned Augustus Caesar. Gaining first class honours in all parts of the Tripos, he topped the graduating list as winner of Philip Lake and Vaughan Lewis prizes. He went on do his doctoral research on econometric estimation with spatial series at Cambridge, and his thesis examiners included economics Nobel-laureate Clive Grainger. His research was strongly influenced by R.J.Chorley, who also encouraged his interests in the application of mathematical methods to geographical problems. He was appointed to a College Research Fellowship in 1971 and one of his then students, Derek Gregory, recalls Les as a Cambridge teacher who 'had a wonderful gift for clear exposition combined with such good humour and gentleness'.
Spatial modelling was to remain a lifelong and primary research interest, and it was for this quantitative work that he was appointed by Peel to a lectureship in the Department of Geography at Bristol in 1973. He was then 25. Here he developed demanding undergraduate courses in spatial optimisation and began to publish a series of pioneering papers which were to make him one of the world's most respected spatial analysts. His areas of early work were on spatial autocorrelation and spatial econometrics, but he extended this through major ESRC-supported research programmes on Bayesian spatial econometrics, developing both theory and algorithms. His command of theory inevitably led to him being called on by government to resolve policy issues ranging from rate support grants to census undercounting. At the time of his death he was working on a revised approach to spatial interaction models with his former research student, Professor Ullysea Neto in Brazil.
With Andrew Cliff's move to Cambridge, Les took over the lead in building up the Department's investment in computing facilities. He saw these as crucial not only for research but increasingly for teaching; his own quantitative courses were always accompanied by searching computer-based project work. He was co-founder with Neil Wrigley of the Wessex Consortium on graduate training in quantitative methods and later of the MSc course in Society and Space. One indicator of his commitment to teaching quantitative methods was his rewriting over the last two years of all his practical classes into 'R' to make them more user-friendly for his students.
But the quantitative theme was not to be the only string to his bow. A second chord, which became stronger in more recent years, was a concern with geopolitics in general and a focus on south and central America in particular. In this area he explored the role of influential geographical interpretations in international relations. In a field dominated by Anglo-American writing he drew attention to the role of Spanish language contributions and the French radical tradition. A 1986 paper on 'the revival of geopolitics' was recently celebrated in the Progress in Human Geography 'classics in human geography' series. Alongside a lengthening string of research papers, he taught undergraduate classes on both geopolitics and Central America.
Outside the Department, there was yet a third research agenda, which he pursued more as a fascinating academic sideline rather than a part of his main university portfolio. This was the historical geography of landscape evolution within the English regions. His History of Northumberland and Newcastle-upon-Tyne (1976), with drawings by Carolyn Lockwood, was a homage to his homeland and remains a standard work on the county. In The Chilterns (1992), a historical geography co-written with Alison Doggett, he skilfully wove environmental and historical themes together into an intricate regional canvas. His Chiltern work was described by the dean of landscape studies, Oliver Rackham, as 'the best of its kind since W.G.Hoskins'. It rapidly moved into a second edition and was a framework for AONB planning. Recent papers in Northumbrian journals have delved back as far as the Roman period and, ironically, on the day of his death, the honour of his election to Fellowship of the Society of Antiquaries was announced.
In research and scholarship, Les was his own man. The great majority of his published papers were single-authored and, although he raised major research funds, they were always to follow his own sharply focused lines of inquiry. He rarely jumped on bandwagons and had an unerring sense of what lines might prove fruitful over the longer run. He was a scholar's scholar who could have as easily fitted into Victorian as into 21st-century traditions.
Les Hepple's deep family roots in the Northeast were a source of pride and stability for him. Paul Longley's recent atlas of British surnames has confirmed Northumberland as the undoubted hearth of the Hepple family. Les enjoyed tracing the family links of the Hepples and took a particular interest in his namesake, Wilson Hepple (a Northumbrian landscape painter of repute). It was here in his home county, amongst his close family, that he was the most relaxed and had time to think through his research ideas. In 1969 he married his schoolgirl sweetheart, herself from Whitley Bay, and it was to here that he and Suzanne repaired in vacations to recharge their batteries and go walking the Northumbrian hills. All our thoughts and love go out to Suzanne in her incalculable loss.
Further information
The funeral is being held on Wednesday 14 February at 1pm, Canford Crematorium, Canford Lane, Westbury-on-Trym, Bristol BS9 3PQ. There will be light refreshments afterwards at 2.30pm in the Theatre Bar, Victoria Rooms, Queen's Road, Bristol BS8 1SA. For further information contact Alison Capey (a.capey@bristol.ac.uk).