View all news
Cliff hangers in the gorge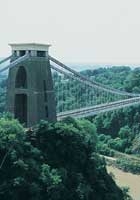 5 May 2006
Passing through Cheddar Gorge recently, your eyes may have been drawn to a herd of rambling goats...
If you go down to the gorge today, you're sure of a big surprise: a rather controversial picnic! Passing through Burrington Combe and Cheddar Gorge recently, your eyes may have been drawn to a herd of rambling goats. The objective of introducing these cliff hangers is to restore species-rich grassland and reduce the dominance of scrub by introducing a grazing regime. But proposals to introduce a similar regime in Bristol's Avon Gorge have been met with mixed opinion.
Grazing prevents the dominance of scrub, and can allow rare grassland flowers to flourish. With the demise of sheep grazing and a decline in rabbit populations, conservationists must seek alternative habitat restoration regimes. Goats and other livestock can eliminate scrub, and have been used nationally in habitat restoration projects.
Mandy Leivers, the Avon Gorge's resident Biodiversity Education Officer explains: 'We need to get rid of brambles, ash and oak. Grazing feasibility studies show that goat grazing is a potential route'. Similar schemes in the area appear to have been successful, and as Mandy says, 'the alternative, manual clearance, is an expense, and can't control plants such as rank grasses'.
The Avon Gorge supports tree species found nowhere else
The Avon Gorge is of exceptional conservation importance and supports two species of tree, Bristol whitebeam and Wilmott's whitebeam which are found nowhere else. Dr Ashley Robertson from The University of Bristol voices concerns over the proposed introduction: 'The gulley is a major stronghold for Wilmott's whitebeam which is endemic to the Gorge. The introduction of goats could affect the regeneration potential for this species'. Studies conducted in Cheddar Gorge nearby suggest goats introduced in a similar project may pose a threat to species closely related to Wilmott's whitebeam.
The goats of Cheddar
Cheddar Gorge is an internationally famous tourist honey-pot, and is of national conservation importance. Domestic goats were introduced to Cheddar Gorge for scrub control in the 1990s. Cheddar supports an outstanding limestone flora which was threatened by the cessation of sheep grazing 30 years ago. The goats were considered a success in halting succession (the natural progression from grassland to woodland) in the Gorge. 'Due to the success of the goats at Cheddar, it is logical to think about introducing goats at Avon' says Helen Hall from the Association of Local Government Ecologists. Helen stresses that plans to introduce the goats are provisional: 'The project is at an early stage, and there are a few more steps to go before we actually introduce the goats'.
Four sheep have also been released anonymously in Cheddar Gorge (rumour suggests they were released after being won in a game of poker!). Botanical monitoring implies the sheep have had a wholly beneficial impact on local biodiversity in the Gorge.
Billy goats seek greener grass
Goats graze selectively, favouring certain elements of the vegetation, whilst resisting others. This can work in favour of conservation by producing vegetation mosaic structures, of value to biodiversity. But selective grazing can also be disruptive to conservation efforts; evidence from Cheddar suggests that goats may have an impact on whitebeam regeneration. 'There are always costs and benefits to such projects' says Conservation Officer Kate Jeffreys, who was involved in a similar project at Burrington Combe: 'The goats may have a short term effect on seedling regeneration, however, by removing scrub, whitebeams that would otherwise be out-competed by more vigorous plants may benefit'. Kate also suggests that the impact of the goats on rare whitebeams can be reduced by ensuring the herd has plenty of alternative grazing material.
The future
Mandy and Helen caution that plans to introduce goats to the gorge are still provisional, but residents and conservationists are likely to object to the proposal. Conservationists in the past have regarded goats with suspicion. Such views have been dismissed as 'based on ill-founded mythology' but there remains a paucity in conclusive data on the effects of introducing goats on biodiversity. If the plans go ahead, time alone will tell whether the goats of Avon Gorge will be of conservation benefit.