View all news
UK's first feline epidemiologist appointed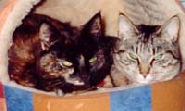 Press release issued: 12 April 2005
Cats Protection, the UK's leading feline welfare charity, has appointed the country's first specialised feline epidemiologist.
Cats Protection, the UK's leading feline welfare charity, has appointed the country's first specialised feline epidemiologist.
Dr Jane Murray, 37, who is based at the University of Bristol's School of Veterinary Science, was recently appointed to the newly created post for a three-year term. As well as lecturing, Dr Murray will research and identify factors, for example age and environment, that affect the susceptibility of the country's feline population to specific diseases.
Her work will also measure the effectiveness of different methods used to influence specific outcomes in the cat population, such as reducing the incidence of infectious diseases and controlling reproduction through neutering.
Dr Murray's findings will be used by Cats Protection to help target the charity's resources more effectively and better meet its aims. Areas of the charity's work which will benefit from the epidemiological research include its neutering initiatives and its efforts to help decrease the prevalence of certain diseases in the feline population.
"The information we gain from Dr Murray's work will be instrumental in allowing the charity to learn more about the cat population in the UK and critically assess our effectiveness enabling us to find new approaches, especially in the areas of rehoming, neutering and disease transmission," said Dr Lisa Morrow, Cats Protection's Head of Veterinary Services.
Feline epidemiology is an area that, to date, has received little attention in the UK which makes it an exciting area to work in, according to Dr Murray. "I am very excited about the opportunity to contribute to the welfare of the UK's cats through the epidemiological research that we'll be running at the University of Bristol," said Dr Murray. "It's very encouraging that Cats Protection has so clearly shown their understanding of and commitment to the groundbreaking role that feline epidemiology can play in cat welfare."
As well as carrying out epidemiological research, animal lover Dr Murray will also be lecturing at the Vet School. She completed her Veterinary Epidemiology PhD at the University of Liverpool last year, which involved a study of the risk factors associated with falls of horses and riders in eventing. She has an MSc in Equine Studies and, prior to doing her PhD, spent seven years lecturing on equine studies and animal care programmes at Warwickshire College.
As part of the charity's educational objective, Cats Protection sponsors three academic posts covering both clinical and behavioural aspects of feline care. The post holders' work benefits cat-owners everywhere and helps to spread the cat care message to everyone interested in feline welfare.