View all news
Her Majesty The Queen opens BLADE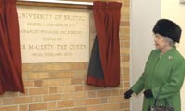 Press release issued: 22 February 2005
The University's new £18.5 million research facility, BLADE (Bristol Laboratory for Advanced Dynamics Engineering), was opened on Friday 25 February by Her Majesty The Queen
The University of Bristol's new £18.5 million research facility, BLADE (Bristol Laboratory for Advanced Dynamics Engineering), was opened [Friday 25 February] by Her Majesty The Queen, who was accompanied by His Royal Highness The Duke of Edinburgh.
BLADE is located in the Queen's Building, the Faculty of Engineering's base in University Walk. The original building was opened by Her Majesty The Queen on 5 December 1958 and has now been extended with two new, superbly equipped laboratory buildings.
BLADE is playing a major role in developing the next generation of engineering systems. Aeroplanes, helicopters, bridges, buildings – these and many other systems have to meet ever-higher specifications. They must be stronger, lighter, more reliable under variable conditions and less harmful to the environment.
By bringing together leading academics from a range of disciplines and adopting a 'whole lifecycle' approach – from analysis and design to construction and performance monitoring – BLADE is seeking to address these challenges. Aerospace engineers, civil engineers, computer scientists, engineering mathematicians, electrical engineers and mechanical engineers are pooling their expertise in the quest for practical solutions.
Professor Eric Thomas, Vice-Chancellor of the University, said: "This is probably the most advanced facility of its type in Europe and is helping to place the University and the city among the world leaders in this vital area of research, analysis and experiment."
The multidisciplinary philosophy behind BLADE is also helping to reduce the possibility of engineering failures. Every year, thousands of lives are lost and billions of pounds wasted when materials, components and assemblages fail. Aircraft losses, petrochemical industry disasters and earthquake damage are among the most devastating consequences of such failures. The estimated annual cost of engineering failures across the world is £40 billion.
At BLADE, researchers can undertake precisely controlled experiments to find out how structures and systems behave under extreme conditions. They can test anything from individual composite fibres to entire concrete beams and aircraft structures to the limits of their performance and expose any weaknesses long before the components and systems are put into service.
Funding worth £15 million for BLADE came from the Higher Education Funding Council for England and the Office for Science and Technology. The University itself committed a further £3.5 million.