View all news
Honorary degrees awarded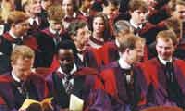 Press release issued: 16 February 2005
Bristol University is awarding Honorary degrees to two prominent people at today's degree ceremonies in the Wills Memorial Building.
Bristol University is awarding Honorary degrees to two prominent people at today's degree ceremonies in the Wills Memorial Building.
Ms Anne Weyman, OBE, Chief Executive of fpa (formerly the Family Planning Association) and Bristol graduate, will be honoured with the degree of Doctor of Laws at the 11.15 am ceremony.
After graduating with a physics degree from Bristol in 1965, Anne studied for qualifications in accountancy and a degree in Sociology at the London School of Economics (LSE), graduating in 1972. This was followed by several years of social research at LSE and Queen Mary's Hospital Roehampton.
In 1977 Anne was appointed Head of Finance and Administration at Amnesty International and in 1986 joined the National Children's Bureau as Information and Public Affairs Director. She remained in the position for ten years until her appointment to her current post as Chief Executive of the fpa.
The fpa is the only non-governmental organisation working to improve the sexual health and reproductive rights for the UK. It aims to see a society with positive and open attitudes to sex, in which everybody enjoys good sexual health and where sexual and reproductive rights are respected.
Anne has publicly debated on sensitive issues. She has taken up the issue of abortion services in Northern Ireland, supporting the campaign for changes in legislation to ensure that all women in the UK have equal access to care. Under her guidance fpa was also one of the first organisations to recognise the problems caused by untreated Chlamydia and to campaign for greater awareness and improved services.
Anne is also extremely active in a range of other voluntary organisations taking on numerous public appointments. In 1987 Anne founded the influential Sex Education Forum, was its Chair from 1987-1996 and is now President. She was also a Trustee of the Children's Rights Office from 1991-1999 and Chair of the National Child Care Campaign and Day Care Trust from 1986-1987. She is currently a Non-Executive Director of Islington Primary Care Trust, Vice-Chair of the Independent Advisory Group on Sexual Health and HIV and a member of the Independent Advisory Group on Teenage Pregnancy.
On receiving her honorary degree, Anne said: "I'm surprised and delighted to receive such an honour - it came completely out of the blue."
Deborah Moggach, novelist, screenwriter and Bristol graduate, will be honoured with the degree of Doctor of Letters at the 2.30 pm ceremony.
Deborah has published 15 novels, two collections of short stories and several screenplays. These include adaptations of her own and others' writing, including Anne Fine's Goggle eyes, for which she won a Writer's Guild Award, and Nancy Mitford's Love in a cold climate. Her many novels include the best-selling Tulip fever and Porky.
Deborah was born and educated in London. In 1971 she graduated from Bristol with a degree in English.
After graduating, Deborah lived in Pakistan for two years where she started writing articles for Pakistani newspapers and magazines. After her return to London her debut novel, You must be sisters, was published. Her first two novels were autobiographically based, the first set amongst Bristol University student life in the late 1960s. The second, Close to home, chronicled the experience of a young mother during a hot London summer ten years later.
She is a frequent contributor to BBC Radio 4, has taught many times on the Arvon Foundation creative writing workshops and contributes to literary festivals, last year at Hay and at the Edinburgh Book Festival. In the mid-1980s she began writing screenplays and she also enjoys performing, like Alfred Hitchcock she always appears as an extra in productions of her scripts. Deborah is also Chairman of the Society of Authors and a Fellow of the Royal Society of Literature.
Deborah Moggach, on receiving her forthcoming honorary degree, said: " I'm thrilled and honoured. Little did I guess, all those years ago as a scruffy and vaguely mutinous undergraduate, that I would re-visit my favourite city in such style.
"I'm very much looking forward to it, don't know what to expect at all as I've never had anything like this happen to me before. But I'm very excited and can hardly wait."