I want to teach and/or work with children
Several Bristol graduates go on to teach music privately or in schools. Some go into this career via a PGCE or the Teach First pathway into school teaching, which aims to encourage the very best graduates into school teaching. Others combine teaching and performing in freelance careers after receiving their PGCE or Postgraduate Diploma in Performance.
A career in music teaching can be as flexible as you want it to be, allowing you to try different methods of teaching, such as classroom, small group or one-to-one work. You can be self-employed or work for a school, orchestra, local council, or project such as the group of In Harmony schemes running across Britain, inspired by El Sistema.
Alumni experiences
Stephanie Harrison - Director of Music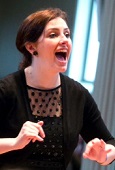 Whilst studying an undergraduate Music degree at Bristol University, Stephanie explored a wide range of musical interests, including musicology, performance, transcription & editing and arranging. She also made the most of the performance opportunities on offer outside of the course, singing with the University Singers and Chamber Choir and playing the double bass in the Symphony Orchestra and Chamber Orchestra. She also conducted the String Orchestra and musically directed theatrical productions for the Music Theatre Bristol (MTB).
"During my final year, I had the opportunity to take part in the Students' Associates Scheme run by the university, which enabled me to undertake a teaching placement in a local secondary school for one day a week. I thoroughly enjoyed this opportunity as it helped me to appreciate all of the benefits of pursuing a career in teaching; in particular, I was really struck by the many musical interests I could continue to explore through teaching and found the progress that students made under my tuition particularly rewarding."
After three years of study, Stephanie graduated with First Class Honours and awarded the university's Centenary Performance Prize for her final recital, specialising in Baroque vocal music. She then stayed on at the university for a further year to complete a PGCE, before working as Assistant Director of Music at Redland High School for Girls.
"After spending five years in that role, I was appointed Director of Music at The Red Maids' School, where I currently work as part of a very busy and thriving music department. I believe it to be one of the best jobs in the world, as I spend every day sharing my passion for Music with others through exploring a wide range of musical interests. In my spare time, I work as a freelance musician, as a musical director for local amateur theatrical productions and also the first soprano at The Lord Mayor's Chapel."
Jennifer Raven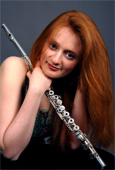 "After my degree at Bristol, I went on to do a Master's in flute performance at Trinity Laban Conservatoire of Music and Dance. Since then I have been involved in some fascinating projects.
With colleagues from Trinity, I co-founded The London-Jerusalem Music Project, playing new music by Middle Eastern composers in London and Israel. With contemporary ensemble The Conference of Birds, I travelled to the Brazilian city of Belém and the Amazon Rainforest for a British Council residency, and to Tuscany for a unique programme of music and birdsong inspired walking holidays.
As part of a flute and harp duo, I held a residency with the NHS Verve Arts programme, providing music for cancer and stroke patients during their time in hospital. As an orchestral musician, I performed as part of The Bristol Ensemble for a new programme of gypsy and baroque music, which included a performance of Vivaldi's Il Gardellino flute concerto at St George's Bristol and throughout the West Country.
Studying studio composition at Bristol sparked my interest in contemporary music and I've since gone on to record for numerous composers, including lecturer Neal Farwell, and Bristol-based DJs, Way Out West.
I took my undergraduate dissertation as an opportunity to explore some of the issues surrounding music and social change in depth. Since then I have become a specialist in music education for children in challenging circumstances. I currently work for education charity, ARK Schools, where I coordinate a large-scale music programme for a network of primary and secondary inner-city academies. In 2009, I co-founded Fairbeats! which has become a leading organisation for music education focused on young refugees and asylum seekers. We have recently been granted Youth Music funding for 2013-15.
As a result of my work with Fairbeats! and ARK Schools, I have given presentations about music education for the National Association of Music Educators and the Musicians' Union conferences."
Francesca Wickers
Following on from Francesca's success in music, travel and arts journalism – she turned her sights to working with young people full time.
"I spent six months living in Melbourne, working with children with autism, before returning to the UK to start clinical training in Child and Adolescent Psychotherapy at the Tavistock and Portman Mental Health Trust in London.
I've learned a lot about the way language-learning and musicality is intertwined, especially with infants, and I feel my joint honours in Music and French has really informed this. There's also a lot of scope to combine psychotherapy and the arts, so as soon as I've qualified I'm determined to find a way to weave music into my professional life."