I want to perform but don't want to go straight to a conservatoire
Lots of talented performers choose to do a degree first, in the knowledge that taking a postgraduate diploma at a conservatoire after a university degree is a tried-and-tested pathway to a professional career. With singers this can be particularly beneficial, giving their voices time to mature, but all kinds of instrumentalists decide to begin their training this way.
Alumni experiences
Gareth Treseder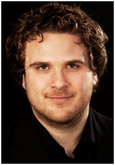 Gareth Treseder is a Bristol graduate who went on to do his performance diploma at the Royal Welsh College. Now pursues a duel career as composer and performer. His music is published by the leading UK music publisher Boosey and Hawkes and he is currently touring with John Eliot Gardiner performing Monteverdi's L'Orfeo, Ulysses and The Coronation of Poppea.
"What I loved about studying at the University of Bristol was the sheer amount of composing and performing opportunities that were available. Writing works for the University of Bristol Church Choir and Bristol Cathedral Choir alongside my studies proved to be invaluable in honing my compositional skills. Receiving these commissions gave me the confidence to produce music that has since been premiered by choirs across the world, including the BBC Singers and St Helena's Cathedral in Montana, and subsequently published by Boosey & Hawkes.
Furthermore, singing in as many ensembles as possible – the University Singers, the University Chamber Choir, Bristol Operatic Society, to name a few – helped to shape the discipline and skills required for a career as a chorister and soloist. In no small part due to these experiences, I have since performed alongside many celebrated choirs, including the Monteverdi Choir, in such prestigious venues as the Royal Albert Hall and Carnegie Hall."
Frederick Long
Frederick went on to a conservatoire after graduation but his singing career shaped towards opera. With engagements at many of the UK's major opera houses he is now well established in the profession as an exciting young bass-baritone.
"After enjoying a wide range of performance opportunities at Bristol in many different guises, it seemed my future lay as a singer. I completed four years' postgraduate study at the Royal Academy of Music, and a further year at the National Opera Studio. After two wonderful seasons with the Glyndebourne chorus, I am lucky enough to have worked as a principal for English National Opera, Scottish Opera, Opera Holland Park and the Royal Opera. Not to mention marrying Bristol music department alumna, Emily Vine!"
Lucy Griffiths
"I loved my time at Bristol and particularly enjoyed the conducting I did as a student. When I graduated, all I knew was that I wanted to pursue this.
A year later, I was awarded the Sinfonia ViVA Conducting Scholarship, which enabled me to do a Masters in Orchestral Conducting at the Birmingham Conservatoire. Soon after that, I started working at the University of Warwick as Assistant Director of Music, where I'm still in post seven years later. There is no music degree offered at the University, so my job is predominantly a conducting one. I am also Associate Conductor of the LSO Community and Youth Choirs, Musical Director of Severn Trent Water, and do a lot of freelance work as a conductor and animateur.
I feel very fortunate to work with a huge range of people in a variety of settings; over the last year I have worked with office choirs on Gareth Malone's latest TV series, run choirs in prisons in Uganda for African Prisons Project, worked with young people, community choirs, professional musicians, and conducted everything from Snow Patrol to The Rite of Spring! There is never a shortage of new challenges and opportunities."