I want to be part of the music world but not as a performer
A career in arts administration and the media puts graduates right at the cutting-edge of music-making and music production.
It is a brilliant way to meet world-class musicians, write about new musical events, introduce music to a wider audience and stay in touch with the vibrant, ever-changing world of professional performance at the highest level. One route to this career path is through internships: several Bristol graduates have obtained permanent posts this way.
Alumni experiences
Charlie Rusbridger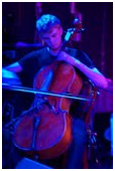 Charlie is working as Marketing Assistant for the National Youth Orchestra of Great Britain. He is still very active as a cellist and songwriter.
"I work alongside a Head of Communications, and between us we devise and present the 'public face' and branding of the orchestra.
On a wide level, we implement strategies for all of the orchestra's upcoming events and campaigns. These could include recruiting for next year's orchestra and the promotion of outreach projects and concerts.
On a day-to-day basis, I look after all of the digital and social media (website, Twitter, Facebook, our blog), deal with any press enquiries and liaise with designers and printers about artwork and programmes. Yes, I get paid to have Facebook open all day, but for an orchestra made up entirely of teenagers, this is actually the most useful method of communication! This all provides a great deal of variety, and also creative input. It's fun travelling around the country on tour, meeting world-class musicians and standing backstage (and on stage) at amazing venues.
I find myself having to write about music most days, whether it be through writing a press release or editing programme notes. My undergraduate music degree undoubtedly prepared me well for this, and it's surprising how many people working in all areas of orchestral management - from fundraising to stage managing - have music degrees. Fortunately, I still also find time to perform myself, writing and playing music around London."
Francesca Wickers
Since Francesca graduated, she has been building up a portfolio of music journalism. She founded the first online guide to the new phenomenon of 'fringe opera' – opera performed in non-standard venues – which is now consulted by professional arts organisations and opera companies who work with Francesca and advertise on her website.
"When I left Bristol University, I was certain of two things. I wanted to be an arts journalist and I wanted the whole world to know that opera isn't elitist. So I set up FringeOpera.com, an online guide to the huge wave of exciting and accessible opera happening across the UK (which I discovered while writing my final-year dissertation). As well as listing all upcoming shows on the website, I go to press nights, write reviews, interview directors and performers and write features. Studying music at Bristol gave me a huge drive to be independent and pursue this genuine interest."
Natasha Riordan-Eva
Natasha is the Manager of the London Season at the Philharmonia Orchestra. She is responsible for coordinating all of the practical elements of bringing concerts at the Royal Festival Hall to fruition and acts as the primary contact for conductors, soloists, orchestral players and for staff members at the hall to ensure that concerts run smoothly.
"Our London Season at the Royal Festival Hall is made up of about 40 concerts a year; a mixture of concert performances and staged productions, performing repertoire ranging from Haydn to Varese. Each concert takes considerable time to plan and my mind is often occupied with thoughts of finalising the plans for a concert that will take place in a week's time at the same time as developing the formative ideas of a concert that won't be brought to life for a few years.
Before I started studying at Bristol I had no idea what I would go on to do. I had been a Saturday student at a music college in London and was encouraged by many alumni to apply to Bristol. At the Bristol open day my impression of the department was of a friendly, vibrant and inspiring place to further my studies. The next year, this impression became a reality and happy memories of my time at Bristol continue inform my life and work daily."