Official opening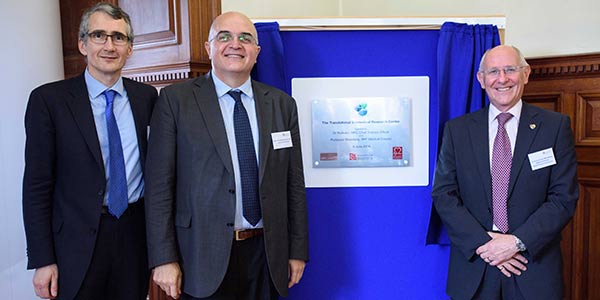 The Translational Biomedical Research Centre (TBRC) was officially opened on Thursday 9 June 2016 by the MRC Chief Science Officer Dr Declan Mulkeen and BHF Medical Director Professor Peter Weissberg.
The opening featured presentations by Academic Director Professor Raimondo Ascione and PVC for Health Professor John Iredale.
Guests from research institutions across the UK enjoyed a VIP tour of the state of the art national facility (which is structured around the concept of a research hospital) followed by a cream tea.
The creation of this unique facility has attracted a great deal of interest from research institutions, funding bodies and biomedical companies alike as a catalyst to transform the progress from discovery of new treatments to patient benefit.
The dignitaries also welcomed the One Health approach which will see health benefits achieved for companion animals through a new generation of veterinary treatments.