Nigel William Wray
Doctor of Laws
12 July 2005 - Orator: Mr Bob Reeves
Mr Pro-Vice-Chancellor: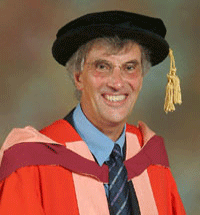 If you were to check out Nigel Wray by 'googling' on the internet, as our students would describe it, you would come across descriptions such as 'Britain's most successful living investor' and 'serial investor and entrepreneur'. A friend described him as a 'paradigm of old-fashioned English values with typical reserve, good manners, modesty, and above all, an implicit belief in fair play'.
Is it possible to be a hugely successful and innovative businessman, to enjoy remarkable achievement, and yet remain an 'ordinary family man' with traditional ethical principles, modesty and morality? Nigel Wray has demonstrated that it is. Here is how he is described by Wayne Lewis, a great friend from student days in Bristol, and later in business- 'Complex qualities underlie his quiet façade. Alongside easy-going and innocuous traits, you will find restless ambition, sublime vision and natural leadership all bonded together by a superb intellect allied to excellent judgement'. Let us find out more of this most interesting man.
Nigel William Wray was born in London in 1948. His parents had a printing works, which was relocated to Andover when Nigel was young. He became a boarder at Mill Hill School, where he came across his friend Martyn Thomas, now the Chairman of the Rugby Football Union, a sport with which Nigel was to become very involved later in life.
Having studied classics at school, Nigel came to Bristol in 1967 to study Economics and Economic History. Here he applied himself to some sort of academic discipline and the first indications of ambition in the business world came when he confessed to being intrigued by the extraordinary feats of the 19th Century American Railway and Banking magnates, whom he studied. His professor, Bernard Alford, remembers him as a good student and a 'quiet chap', having one unusual quality, in the days before computers and word processors- he wrote very clearly. Bernard says that it was a pleasure to read his work. Nigel played hall rugby and for the University seven-a-side team in the UAU championships, but often went home at weekends to play for Old Millhillians at both rugby and cricket. He left Bristol with a 2.1 and headed back to London.
Nigel had no particular ambition initially and his first job was with the merchant bank, Singer and Friedlander, a name he liked the sound of. Some twenty years later, he was responsible for launching the same bank onto the stock market, having gone from graduate trainee to major shareholder. It was not, however, an easy transition. His business skills were sharpened in the school of hard knocks, particularly following the banking and property crash in the early 70's. Learning from his mistakes, and resilient as ever, he set out on the path to where he is today.
Martyn Thomas, meanwhile, had became Nigel's flat mate, and his captain when he joined the Old Millhillians, regarding him as being a 'difficult person' to have in the team. This was because not only did he do star jumps when everyone else was doing press-ups, but more pertinently, he never passed the ball! He perhaps was not regarded in those days as a team player, although his passion through life has been team sports, most particularly rugby and cricket. Another contradiction.
Martyn found Nigel to be a challenging flat-mate in other ways. One was that Nigel used to read the dictionary! Every night he would set out to learn ten new words, which he then tried out in conversation the next day. Possibly because of this, he developed a reputation at Old Millhillians, who he later captained at both cricket and rugby, as someone who knew what he was talking about.
It was at Old Millhillians that Nigel met his future wife, Linda, and it was through contacts made there that he became known as someone with a sharp eye for investment opportunities. He went on to act as a financial adviser to a number of these people, one being Terry Jones of Monty Python fame.
Nigel had never been one for anything 'flashy', unless one could describe his rather racy Hillman Imp from his student days in that vein, but with his first significant earnings, he did invest in a second hand Aston Martin DB5. He knew little about what was under a car bonnet. So it was, that very soon after acquiring the car, in the early days of self-service, he innocently filled the engine with diesel, leading to a bill for £3,750, almost what he had paid for the vehicle.
His knowledge of other things was greater. He had an eye on the property market, and still in his 20's, he built up a substantial business with Martyn Thomas. They bought houses in a poor state of repair, mainly in Hampstead, and renovated them to sell on. Eventually, with a 100-strong workforce of mostly Irishmen, they reckoned to turn round most properties completely in only 12 weeks.
Mr Pro-Vice-Chancellor, Nigel's instincts have never been those of a gambler. Rather they have been akin to calculated risk-taking, reinforced by two key components of longevity in business- determination to see things through, and sound judgement of people. Nigel's approach to investment, property development and to people has been similar- help them when they are down and facilitate their recovery in such a way that those involved may also benefit.
Among many business interests, the one for which he was best known, and considered to be a risk by others, was the re-launch of a 'city' journal, the Fleet Street Letter. He acquired this for next to nothing, and transformed it from what was described as a 'sleepy diplomatic read' with a bit of business on the back, to being the first British private subscriber investment newsletter. Nigel carried out all the research, wrote it, printed it, marketed it and turned into a hugely successful publication. It has been suggested to me that any aspiring economics students wishing to be acquainted with a real-life success story should read every edition, and that it should be in the University's archives. A spin-off was the Penny Share Guide. In both publications, he demonstrated knowledge of the stock market and share analysis that was second to none.
Nigel's emergence as a major player on the financial scene, and his involvement in developments of many different kinds, such as the Trocadero on London's Piccadilly, led to him becoming a director of over 50 companies. The world of business came to know his public face. Behind this, he was, and remains, a private person, most comfortable in the company of family and close friends. He is a kind man, with great compassion. To describe him as a philanthropist would be unjust. He does not give in order to satisfy a charitable conscience or to demonstrate that he is a generous man. His giving is unsung. Altruistic he is, and his acts of kindness have assisted countless people, including many of those with whom he has worked over the years. Other beneficiaries have been the organisations, institutions and causes that he admires and seeks to benefit from his backing.
Among these is this University, and his support for University sport has enabled us to develop a high performance programme, through which we can provide top-class athletes with the coaching and other resources they need in order to fulfil their potential both academically and in sport. He has also provided necessary funding for the rugby club and for the boat club by initiating rowing scholarships. It was perhaps appropriate that when Nigel acquired Saracens Rugby Club at the onset of the professional era, one early signing was Bristol graduate Kyran Bracken, an early beneficiary of the performance programme. Kyran, now with 50 International caps to his name, has, like Nigel, stayed loyal to the same club through thick and thin. In Nigel's case, staying involved has probably cost him a small fortune, but unlike other business concerns, this has been a passion. His belief that rugby could become a major professional sport has been vindicated in no more than a decade, having witnessed England winning the World Cup and the major clubs now on the verge of making money for the first time.
Nigel supports many charities connected with sport, such as the Lord's Taverners, the Saracens Foundation, which enhances the lives of needy young children through sport and education and the Cricket Federation for People with Disabilities. According to Linda, his favourite saying is 'if more young people were involved in sport and being part of a team, then fewer old ladies would be mugged!'
Nigel's infatuation with sport has led to him acquiring one of the world's finest collections of sporting memorabilia, and his offices, home and the hotel he owns in Devon are all packed with treasures. His ambition is to establish Britain's first Sports Museum, which would be a fitting legacy.
One prized item is a renowned and rather enormous portrait of one of his heroes, Bristol's own W.G. Grace. Recently, Nigel arrived home from a dinner soon after Linda had gone to bed, and on going upstairs he asked in an alarmed voice if she knew what had happened. Linda, fearing a terrorist attack, death in the family or a burglary at the very least, was relieved to hear that the painting had fallen and Grace now had a hole in his head! Her relief was in contrast to Nigel's distress.
Nigel owns two signed bats used by W.G Grace. The acquisition of another unusual item of lmemorabilia was thwarted by his daughter Lucy, when, as a student herself at Bristol, and now an International lacrosse player, she objected to Nigel buying her a flat in a Clifton property once lived in by Grace, and with blue plaque outside, because she wanted a house in which she could live with her four best friends.
Nigel, as the team player, has always preferred to be the captain. His family, Linda, Lucy, Joe and mother Edna, are all part of the team, and it just may be that it is in this part of his life that his captaincy has been most challenged.
One of Nigel's cricketing heroes, Don Bradman, perhaps provides the reasoning why he does not take his foot of the pedal, retaining still the motivation, energy and desire to continue developing businesses and interests. Bradman, relentlessly moving towards his third century, did not lose concentration or commitment to the cause. He would say- 'This is what I do. It's my job.' So, in a way, it is with Nigel.
Mr Pro-Vice-Chancellor, many have benefited from Nigel Wray's wisdom, generosity and friendship. We in the University of Bristol can be justly proud of one of our most remarkable achievers. I present to you Nigel William Wray as eminently worthy of the degree of Doctor of Laws honoris causa.