View all news
Royal Aeronautical Society Bronze Medal Awarded to Aerospace Engineering Staff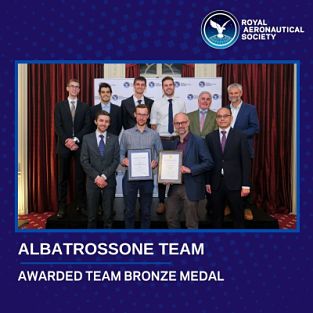 6 December 2021
Staff in the Dept of Aerospace Engineering are part of an Airbus-led team that has been awarded a Royal Aeronautical Society Bronze Medal for the development of the AlbatrossONE Semi Aeroelastic Hinge Scaled Flying Demonstrator.
AlbatrossONE, which is the first completely Airbus Filton-built flying aircraft since Concorde, first took to the skies in early 2019 to show the feasibility of flying an aircraft with freely flapping wing tips, the fundamental feature of the novel "Semi Aeroelastic Hinge" technology. This was followed by a "gate-to-gate" demonstration in summer 2020 that confirmed at scale all the main benefits of the Semi Aeroelastic Hinge including load alleviation, roll damping alleviation and tip stall avoidance, which could enable a future airliner aircraft with a light weight, aspect ratio 18 wing and the consequent significant improvements in fuel burn and environmental emissions.
The University of Bristol has been a key contributor to this project for over seven years, from the initial computations to validate the concept, through fundamental wind tunnel tests and continuing work on various design aspects. The Semi-Aeroelastic Hinge is a concept that is included in the Airbus X-Wing technology demonstrator due to fly in the next few years. The Bristol team, led by Prof Jonathan Cooper, currently includes Dr Djamel Rezgui, Prof Mark Lowenberg, Dr Ben Woods, Dr Ron Cheung(RA), Fintan Healy(PhD) and Huaiyuan Gu (RA).
Dr Ron Cheung represented the University at the awards ceremony at the Royal Aeronautical Ceremony on 22 November 2021.