Histology Services Unit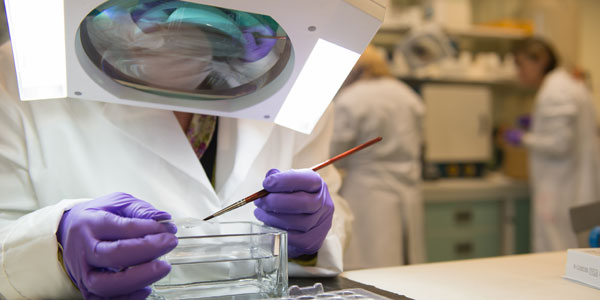 We have a range of equipment that staff and students can be trained to use. Experts are also available to provide help and guidance.
We offer the following services:
routine or specialist staining,
histological training and advice,
immunocytochemistry,
knife sharpening,
decalcification,
celloidin sectioning,
frozen sectioning (thin),
frozen sectioning (thick),
fixative preparation,
wax processing,
wax sectioning,
digital micrography,
image acquisition,
histological supplies.
Charges and service requests
We charge ten pounds per hour for use of the equipment or £26 per hour for us to carry out the work for you. Consumables charged at replacement cost.
Please print out and complete a Histology services worksheet (Office document, 41kB) with all relevant details. A drawing in the box is often very useful.
Contacts
Debbie Martin - debbie.martin@bristol.ac.uk
Carol Berry - carol.berry@bristol.ac.uk
Debi Ford - debi.ford@bristol.ac.uk
Location
Come and find us in the Teaching Wing, TL3.3 and TL2.2.
Faculty of Biomedical Sciences
Biomedical Sciences Teaching Wing
University Walk
Bristol
BS8 1TD