View all news
The Archaeology of the Mediterranean Iron Age: A Globalising World c.1100–600 BCE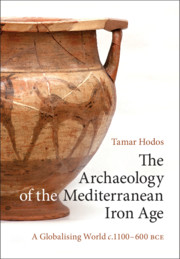 28 September 2020
By Dr Tamar Hodos. Published by Cambridge University Press.
The Mediterranean's Iron Age period was one of its most dynamic eras. Stimulated by the movement of individuals and groups on an unprecedented scale, the first half of the first millennium BCE witnesses the development of Mediterranean-wide practices, including related writing systems, common features of urbanism, and shared artistic styles and techniques, alongside the evolution of wide-scale trade.
Together, these created an engaged, interlinked and interactive Mediterranean. We can recognise this as the Mediterranean's first truly globalising era.
This volume introduces students and scholars to contemporary evidence and theories surrounding the Mediterranean from the eleventh century until the end of the seventh century BCE to enable an integrated understanding of the multicultural and socially complex nature of this incredibly vibrant period.