Chronic Fatigue Syndrome (CFS/ME).
Lead: Esther Crawley, with Basim Almutairi, Emma Anderson, Lucy Beasant, Simon Collin, Maria Loades, Amberly Brigden and Roxanne Parslow.
Our main interests in this area are:
Epidemiology
Interventions

Prevention

Impact
If you want to understand why we do paediatric trials and studies in CFS/ME, watch Professor Crawley's TEDx talk: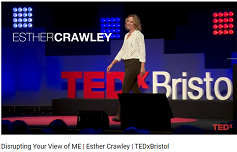 The Epidemiology of paediatric CFS/ME
We are investigating how common CFS/ME is in children, the risk factors for CFS/ME and the overlap with other conditions using the ALSPAC cohort. We have already shown that CFS/ME is common in 13 and 16 year old children and is more common in families that have experienced adversity. We are currently investigating what factors are associated with long term fatigue, the relationship between those with fatigue and those with pain. We are particularly interested in using the ALPSAC data to explore factors that increase the risk of developing CFS/ME.
We use data from our specialist CFS/ME treatment service in Bath to help us understand the characteristics of paediatric CFS/ME. This means we now know that children who come to specialist services are very disabled, about a third have developed problems with mood and almost all of them have problems with memory and concentration.
Interventions
We want to improve treatment for children with CFS/ME. To do this we have been working on how children and young people think we should define recovery, what difference in disability is important to children and finding out how to measure outcome in paediatric CFS/ME. We have interviewed children to find out about how to define recovery and the difference in disability that is important to them. We hope to publish these results in 2017. Children and young people have helped us create a Patient Reported Outcome which measures changes in various areas that children have told us are important. We hope to be able to test this in 2017/18.
We are currently running the following treatment trials:
FITNET-NHS is investigating the effectiveness and cost-effectiveness of internet delivered CBT for children and young people who do not have access to a specialist paediatric CFS/ME service. For further information see:
MAGENTA investigates whether focussing on physical activity is effective and cost effective compared to Activity Management. (now closed to recruitment). For further information see: Magenta Trial
We have completed the SMILE trial investigating the Lightning Process in combination with specialist medical care. For more information see: SMILE - Specialist Medical Intervention and Lightning Evaluation
Impact on families
We are very interested in the impact CFS/ME has on families and have finished studies investigating the impact on relationships and siblings.
Wellbeing in adolescents with CFS/ME.

We want to find out how many teenagers with CFS/ME actually have depression and anxiety and how best to identify them. We are recruiting teenagers with CFS/ME after their first appointment with the paediatric CFS/ME team in Bath, and interviewing them to assess depression and other mental health problems. They also fill in two short questionnaires about symptoms of depression and anxiety. They can choose to be interviewed by Skype or face-to-face, at home or at the hospital. The study will help us to find out how good the questionnaires are at picking up depression and other mental health problems in teenagers with CFS/ME so that we know which questionnaire is best to use.
We will also be investigating whether having depression impacts on recovery in children and teenagers who have CFS/ME, and plan to develop and test a treatment adapted for this group of young people.
Read our frequently asked questions for more information: Well-being Study FAQs (PDF, 302kB)
MOrPH-CFS
We know very little about the causes of CFS/ME, although it is sometimes triggered by a viral infection such as glandular fever. The aim of this study is to explore the 'population' of viruses which inhabit the human body. This is called our 'virome'. We will be investigating whether the virome in children with CFS/ME is any different from the virome in their brother and sisters (who do not have CFS/ME). We will do this by looking for the genetic 'signatures' of viruses in DNA extracted from saliva. We are running our study with the help of the Bristol Biobank. This is a place where samples for lots of different research are stored all in the same place.
FITNET-NHS Study - overview