All Bristol Student Forum
All Bristol Student Forum enables students and staff to share ideas, think creatively and make connections that will help us all to deliver our ambitious strategy, and support our University vision.
Shape your Uni
In 2016 the University launched a new Vision and Strategy that captures the collective ambition and imagination of our students, our staff and the wider Bristol family. We are currently working to deliver the strategy and have already made significant progress in a number of areas.
All Bristol Student Forum events are open to all University of Bristol students and allow round-table discussions of key strategic projects. Each event allows us to gather feedback that will be used by the staff leading on each project, to help shape our plans and ensure the University develops in ways that students value.
We will use this page to let you know what actions we are taking as a result of your input and to share details of upcoming All Bristol Student Forum events.
Launch event - December 2017
Thank you to students who attended the first All Bristol Student Forum in December 2017. Your valuable feedback has been shared with staff who are leading on each of the themes we discussed (assessment, Student Advice Service and building an inclusive community) and is being used to progress work in each area.
Below is a brief overview of your comments and what we are doing.
Hover over the image above and use the arrows to scroll through a gallery of images from the first All Bristol Student Forum.
Assessment
You said you'd like a greater variety of types of assessment, with better scheduling so that it is easier to plan your workload and receive feedback in time to influence your next piece of work. You would like more emphasis on skills and knowledge that are useful in the 'real world' including more opportunities to present and to apply your knowledge in ways that will be useful in your careers.
We agree, and we are currently trialling new assessment methods which address these points across a number of schools within the University, with a view to embedding the new approach over the next few years. We will report on our progress via the Bristol Institute for Learning and Teaching.
In addition, the new Bristol Futures curriculum will prepare you to respond to the big challenges that the world will face in the coming decades. You can access the open courses from 5 February and in September we will be launching credit-bearing optional units.
Student Advice Service
We are planning to launch this new service at the beginning of 2019 and you gave us useful feedback about the role it should have. You are keen for it to focus on delivering up-to-date information, referring more complex queries to existing sources of advice around the University. You believe that this focus should be reflected in its name. You would like the service to be easily accessible, for example via an app, and to provide help 24/7.
We are integrating your feedback into our design of the new service, and the next step is to give it a name. A total of 39 suggestions were given at the forum and we will work with more students through mechanisms like the Tyndall Place consultation group to select the best one.
Building an inclusive community
We heard lots of positive examples of existing practices that support the building of inclusive communities, such as course socials, schools' equality and diversity reps and the Bristol SU Balloon Accreditation scheme, which supports student group leaders to lead inclusive clubs and societies. You also raised examples of where we could be doing better, including our University residential communities.
This is being taken forward as a priority and we're working to introduce enhanced wellbeing and mental health support across the University – in Student Services, in academic schools and in our residences.
Our new residential life service model encourages and supports diverse and inclusive communities at the same time as maintaining and building on the sense of community that already exists in our residences.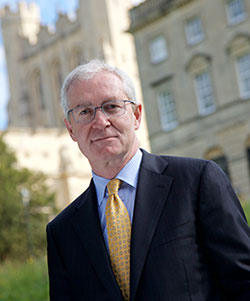 Next event - 3 May 2018
The next All Bristol Student Forum will take place on Thursday 3 May, 5—7.30pm in the Anson Rooms, Richmond Building.
The following discussion topics have been chosen for this event due to their strategic relevance and importance for student experience.
Assessment
Wellbeing, autonomy and independence
Please register online if you would like to attend.
Organiser: sally.spickernell@bristol.ac.uk