History of Art
Expand your interests in art history and visual culture across a broad spectrum of subjects and approaches, in a vibrant artistic city and department.
Research leaders
Our academics' latest research informs our units, with particular specialisms in the visual cultures of South Asia, Europe, Russia, and the Arab world, as well as the interactions between these traditions.
Multidisciplinary
Explore visual culture through painting, sculpture and drawing as well as prints, street art, photography, film, collage, fabric art and multimedia installations.
Industry links
We work with local and national partners including Bristol Museum and Art Gallery, the Royal West of England Academy, and the National Trust.
History of Art courses for 2024
Single Honours
Joint Honours
History of Art at Bristol
We offer a stimulating degree that allows you to develop your interests in art history and visual culture across a broad spectrum of subjects and approaches.
Our syllabus draws directly on the research interests of our staff, providing a varied course where you will develop your own independent research throughout the degree. You can also study a joint honours course with a modern language, which includes a year abroad.
You will be taught by academics whose research helps shape the discipline. Fresh, exciting and challenging ideas inform all our units. You will have the opportunity to follow broad chronological, geographical and thematic elements and build your own research interests and projects.
Career prospects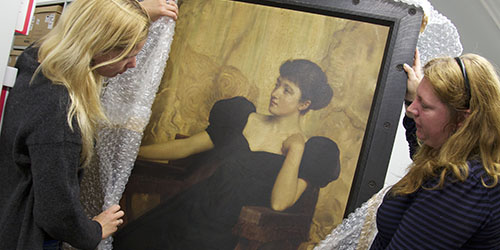 Our graduates find employment in museums and art galleries, art and antique businesses, art publishing and administration, teaching and related fields, as well as other areas such as the media and financial sectors, advertising, PR and consultancy, and in managerial and administrative roles. Many go on to further study at postgraduate level.
Recent graduates have found employment with:
the Whitney Museum, New York
the National Portrait Gallery, London
the Tate
the Prime Minister's Office
Sotheby's
Christie's
the Guggenheim, Venice
Phaidon Press
the Holburne, Bath
the V&A.
Course structure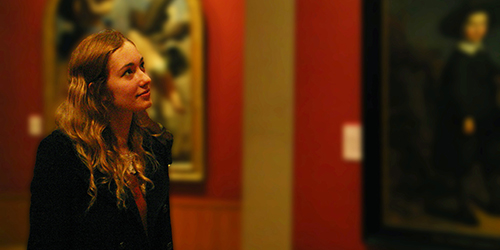 Our curriculum offers a wide-ranging introduction to global visual culture as well as focused units that investigate specific historical contexts. We offer an interdisciplinary approach, exploring relationships between art and music, art and writing, visual culture and sport, and more. Over the course of your degree you can choose to contextualise your studies by taking options from other departments.
The first year provides a solid foundation in visual and textual analysis and interpretation. You will explore the rich variety of global visual culture from the rise of Islam to the present day. You will also investigate the history of different materials and methods of making art in research-oriented, small-group seminars.
In the following years, you will choose from a variety of broader thematic lecture- and seminar-based units, as well as further research-oriented units. There are also opportunities to gain hands-on curatorial experience and skills. The culmination of your studies is a substantial piece of original research in the form of a dissertation.
As well as written exams and a dissertation, assessments include essays, visual analysis, digital presentations, and individual and group projects - which may include virtual and physical exhibitions.
Units may include:
Art and Empire
Cold War Culture
Race and Place
Art and Fashion
Art of the Northern Renaissance.
City of art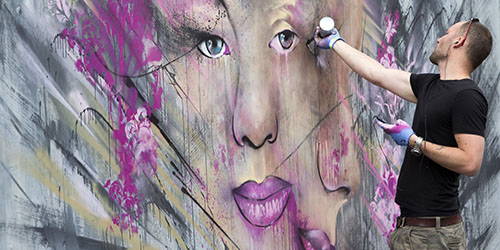 Bristol is home to iconic works by Banksy and is one of Europe's top cultural and creative cities. The historic RWA and Bristol Museum and Art Gallery are minutes from campus. Visit cutting-edge exhibitions at Spike Island, Arnolfini and the Martin Parr Foundation for contemporary work, or explore our graffiti culture at the annual street art festival, UpFest.