Engineering Design
This course will allow you to develop a broad understanding of different engineering disciplines, while gaining deeper specialist skills in design and systems engineering.
Highly ranked
We are ranked 2nd in the UK for General Engineering (Guardian University Guide 2023).
A flexible course
You can specialise in aerospace, civil or mechanical engineering after the first year of study and a wide range of in-depth options in the later years of the course.
Entrepreneurship
Many recent graduates have either created their own companies or played a leading role in developing innovative startups.
Engineering Design courses for 2024
Single Honours
Engineering Design at Bristol
21st-century engineering projects are vital to modern society and require a multi-disciplinary approach, systems thinking and good leadership. Engineers who can balance broad knowledge and skills with disciplinary expertise are vital to the success of such projects.
This course is inspired by the Royal Academy of Engineering and aims to develop engineers with exceptional knowledge and skills. We offer flexible study, specialisation in aerospace, civil or mechanical engineering after the first year and a wide range of in-depth options in later years of the course.
You will learn from leading experts in design methods, and you may work in interdisciplinary teams on engineering projects with our industrial partners.
You will gain industrial experience before you graduate and develop excellent career prospects through opportunities to take summer placements and an assessed year in industry. You can do your placement in areas including the built environment, transport, product design, renewable energy, manufacturing, aerospace and civil engineering.
The course is accredited by numerous professional engineering institutions and is supported by leading companies from a wide variety of engineering sectors.
The Industrial Liaison Office manages our links with world-class engineering and tech companies, making sure that you engage with industry throughout your study. In your first year, you will be assigned an industrial mentor to support your personal development. You can also take advantage of talks from industry insiders and internship schemes.
Career prospects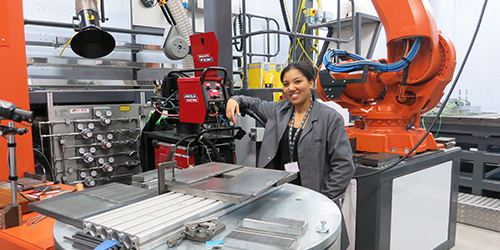 The majority of our graduates become professional engineers. MEng Engineering Design graduates are highly valued by companies looking for numerate, well-organised and articulate applicants.
The flexibility of our course means that our graduates move on to a wide variety of careers, including:
Structural design
Manufacturing engineering
Transport system design
Renewable energy consultancy
Product design
Strategy consultancy.
What our students do after graduating
Course structure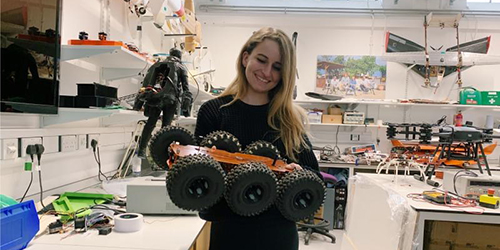 Our course provides a core of engineering units in materials, structures, dynamics, fluids, electronics, mathematics and computing, which you will take alongside other engineering undergraduates. In the first year, we also teach you design concepts and the use of computer-aided design software.
During your second year, you will enhance these skills through detailed group design projects, and you will choose one of three pathways aligned with aerospace, civil or mechanical engineering.
The third year is usually a paid placement in industry, which forms an assessed part of the course and is closely monitored by the University. You will be given similar levels of responsibility as graduates, with opportunities to manage your own projects.
In your fourth year, you will have a clearer idea about what type of engineer you want to become and will be able to tailor your studies by selecting from a wide range of optional units.
You will conduct major group research and design projects during the fourth and fifth years that address genuine business interests from our industrial partners and are conducted in collaboration with them.
Widely accredited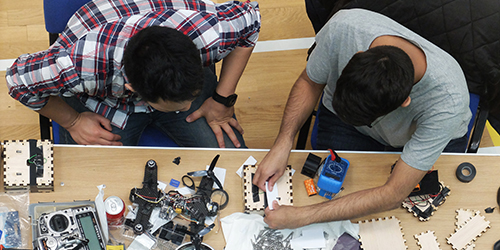 The course is accredited by leading professional engineering institutions, including:
Institution of Civil Engineers
Institution of Engineering Designers
Institution of Engineering and Technology
Institution of Structural Engineers
Royal Aeronautical Society.
The industrial placement supports your progression towards chartership before graduation.