Aerospace Engineering
Aerospace engineers not only develop the next generation of aircraft, but also work on equipment for weather forecasts, mobile phones, television broadcast and space flight. Study at Bristol and watch your career take off.
First-class facilities
Our state-of-the-art wind tunnel laboratories have been used to test the aerodynamics of aircraft, cars, buildings, and even Wimbledon No. 1 Court.
2nd in the UK
Bristol is ranked 2nd for Aerospace Engineering in the Guardian University Guide 2023.
National Composites Centre
Bristol is at the heart of research into composites. The University owns and collaborates with the National Composites Centre, which helps transition new technologies from academia to industry.
Aerospace Engineering courses for 2024
Single Honours
Aerospace Engineering at Bristol
Our degrees combine theory with practical experience and are tailored to give you the skills needed to design an aircraft or spacecraft. You will study a range of subjects - aerodynamics, structures, materials, systems, design, control - and gain experience of making them work together through projects.
Bristol's historic association with the aerospace industry puts us in an excellent position to boost your career potential. Proximity to companies such as Airbus, Rolls-Royce, Leonardo Helicopters and BAE Systems benefits our teaching and our research. A significant amount of the department's research funding comes from industry and many projects involve industrial engagement.
Our Industrial Liaison Office matches every student with an industrial mentor and assists with internships and year in industry placements. Engineers from industry partners provide in-depth technical input and support for the group design project.
Career prospects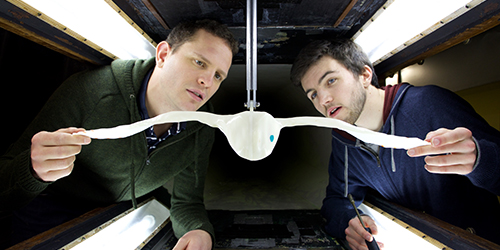 Accreditation by the Royal Aeronautical Society is a mark of assurance that your degree meets the UK Standard for Professional Engineering Competence (UK-SPEC). An accredited degree is a significant step towards registration as an Incorporated (IEng) or Chartered (CEng) Engineer. Some employers target accredited courses when recruiting and an accredited degree is more likely to be recognised outside the UK.
Our Industrial Liaison Office organises company engagement from year one, which continues through all years of the course, making the most of nearby aerospace companies.
Many Aerospace Engineering graduates enter careers in other high-technology sectors, such as Formula 1, wind and marine power generation and defence contracting, while others go into further research.
What our students do after graduating
Course structure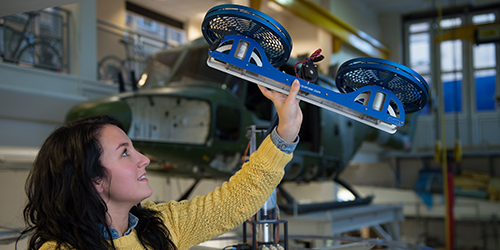 The first three years of the course are shared by the BEng and MEng degrees, and teach the essential skills for an aerospace engineer.
Teaching is organised into three main themes: aerodynamics, dynamics and control, and structures and materials. You will study subjects that underpin these themes, such as mathematics, computing, systems engineering, and professional studies (covering topics such as business and management). In addition to core theoretical knowledge, you will develop wider skills, such as teamwork and presentation skills, as part of our design-build-test projects. You will conclude your third year with an individual research project.
For MEng students, the fourth year provides the opportunity to specialise, and to further develop your engineering skills in a group design project. The group design project is currently run in close collaboration with our industrial partners, such as Airbus and Leonardo, and provides a fantastic opportunity to work in an engineering team and apply your skills to the design of a complex engineering system.
Specialised optional units reflect the world-leading expertise of our academics and will equip you with detailed knowledge in areas such as advanced composite materials, space systems, helicopter and aircraft dynamics, and experimental or computational aerodynamics.
Building on tradition
The city's aerospace history dates back to 1910 when Sir George White founded the Bristol Aeroplane Company. The first aircraft, the Bristol Boxkite, went into production that year. The company's base was at the end of the tramline in Filton, a site that later became part of the British Aircraft Corporation, and subsequently BAe Systems. Filton continues to be a hub for aircraft manufacturers including Airbus, GKN, MBDA and Rolls-Royce as well as BAe.
Airbus and the Royal Academy of Engineering co-fund the Sir George White Chair. Airbus also supports the Drone Dash Challenge which is organised by students in the Drone Society.