View all news
Bristol Bears partners with Children of the 90s researchers for new study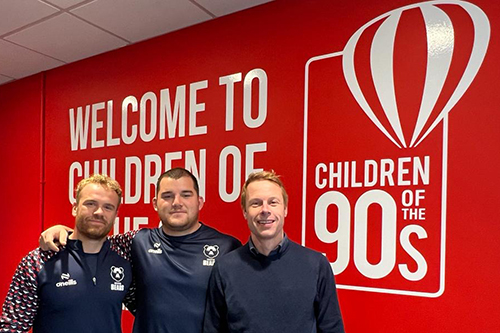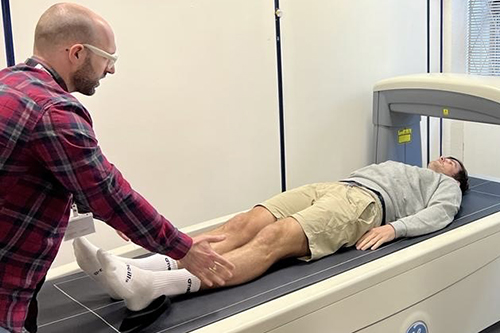 Press release issued: 25 September 2023
An exciting new sports science study is underway at the Children of the 90s clinic at the University of Bristol. European Challenge Cup winners, the Bristol Bears, are pioneering new research looking at the association between body composition and injury in elite level male, female and academy rugby union players.
The Children of the 90s, based at the University of Bristol, is a world-renowned health study whose participants' health (including detailed measures such as cardiovascular fitness, physical function, lung function, blood pressure, liver function, bone density and body composition) is routinely measured throughout their lives.
The Bristol Bears will use the Dual Energy X-ray Absorptiometry (DXA) scanning equipment, located at the Children of the 90s clinic, to measure how body composition asymmetry affects the likelihood of injury for professional rugby union players.
Principal Investigator, Dr James Morehen from Bristol Bears Rugby, commented: "The incidence rate for match injuries in elite senior men's Rugby Union is high in comparison to most team sports, with an average of 27 days missed following an injury. Injuries can create a physical, financial, and psychological cost to athletes, coaches, and sporting organisations. It is, therefore, important to research potential modifiable risk factors in rugby players to reduce this risk of injury.
"As an individual's body composition can have implications for athletic performance and health, it is one potential modifiable risk factor.
"The study will look at the association between limb composition asymmetries, and changes in body composition, and injury incidence throughout the season. The facilities at the Children of the 90s clinic allow us to do this in great detail. Indeed, it has been great for us to learn more about the great work which Children of the 90s is doing, thanks to the Bristol community."
The DXA scanner (or bone densitometry) is an enhanced form of x-ray technology typically used in clinical scenarios to measure bone loss. For this study, and as in the Children of the 90s study, the equipment is used to measure total mass, fat mass, fat free mass, bone mineral density and bone mineral content.
Professor Nic Timpson, Principal Investigator of Children of the 90s, added: "It is fantastic that we are able to open the clinic for a new area of sports science research – and we are delighted that the Bristol Bears approached us to assess these leading athletes. It is not just great to open up our doors to exciting science, but this work marks part of our civic initiative in Bristol – really reaching out to our participants, the population of Bristol and, of course, new contacts in the Bears.
"Aside from scanning Bristol's finest rugby players, we are currently busy running our largest ever clinic here at Children of the 90s. We have seen thousands of participants already but each and every visit counts – so I'd love anyone eligible to get in touch and take part, particularly men."
Further information
Can you get involved in Children of the 90s?
Anyone born in or around Bristol and Weston super Mare in 1991 – 1992 is eligible to get involved in Bristol's famous Children of the 90s. Their data helps scientists around the world learn about the causes of ill-health and disease – including asthma, autism, cancer, dementia, obesity and mental health. Come along to the current @30 clinic and you will receive £40 as a thank you! To find out more, text your name and date of birth to 07772 909090.
About Children of the 90s
Based at the University of Bristol, Children of the 90s, also known as the Avon Longitudinal Study of Parents and Children (ALSPAC), is a long-term health research project that enrolled more than 15,000 pregnant women in 1991 and 1992. It has been following the health and development of the parents, their children and now their grandchildren in detail ever since. It receives core funding from the Medical Research Council, the Wellcome Trust and the University of Bristol.