View all news
Report reveals people with physical disabilities and health conditions are at much greater risk of homelessness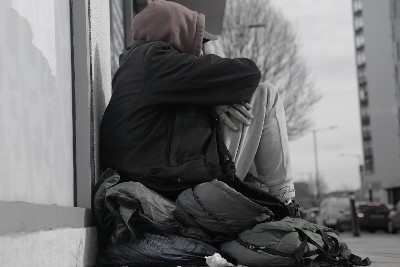 Press release issued: 10 May 2023
A new national report has exposed for the first time how people with a disability or experiencing ill health are significantly more likely to find themselves homeless.
The report, written by researchers at the University of Bristol and University of Leicester, shows there has been a huge rise in these groups experiencing poverty and being under threat of homelessness – an increase of 73% in England between 2018/19 and 2021/22.
Its findings also highlighted that people with disabilities face many barriers to getting support and escaping homelessness, including difficulty getting a diagnosis, unsuitable environments, and a shortage of accessible housing.
This comes alongside findings that working age adults with disabilities are more than twice as likely than peers to live in poverty in 2022.
The first-of-its-kind report, called 'Homelessness and Disability in the UK', was commissioned by the Centre for Homelessness Impact.
Drawing on government data and research reports, headline statistics highlight that:
● Between 2018 to 2022 in England, households accepted as homeless by reason of physical ill health or disability increased by 73%.
● 82% of people experiencing homelessness in England have received a mental health diagnosis.
● There is a shortage of accessible housing across the UK - in England only 7% of homes incorporate minimal accessibility features and in Scotland only 0.7% of local authority housing is wheelchair accessible.
● The poverty rate for people with disabilities is 32%, 12% higher than poverty rates in the general population. Disability employment rates of 53% remain significantly lower than the employment rate of the general population (83%). These social and economic barriers are also causes of homelessness, suggesting that people with disabilities may be at increased risk of experiencing homelessness.
● People with disabilities are over-represented in homeless populations, but the issue may be underestimated due to a lack of understanding and inconsistent data recording.
The report calls for more consistent levels of provision, including tackling the postcode lottery of effective support and improving housing in conjunction with support.
The Centre for Homelessness 'End it With Evidence' campaign calls on policy makers to build a stronger evidence base for what works in tackling poverty and homelessness, put these insights at the fingertips of people who work in the sector, and create a culture change within the entire system to ensure that evidence-based practice is embedded.
Lead author Dr Beth Stone, a lecturer in Disability Studies at the University of Bristol, said: "Many people with disabilities in the UK are subjected to unacceptable standards of living and face significant barriers to inclusion in society. The risk of people with disabilities experiencing homelessness has become especially critical in recent years.
"Government and research data illustrates a troubling pattern of the overrepresentation of physical and neurodevelopmental conditions in homeless populations. Understanding the scale and depth of the intersection between disability and homelessness is vital to improving future outcomes."
Co-author Emily Wertans, a researcher at the University of Leicester, added: "For people experiencing both disability and homelessness, the challenges for navigating either situation are amplified. Without addressing the full diversity and needs within a person's circumstance, the risk of both disability and homelessness worsening is significantly increased.
"Effective support both in terms of homelessness prevention and response must centre around an accessible, person-centred, evidence-based approach from spaces that have received specialist training and resource."
Ligia Teixeira, Chief Executive of the Centre for Homelessness Impact, said: "Our report highlights consistent higher levels of physical disabilities and health conditions within households impacted by homelessness. Distressingly, it finds that barriers faced by people with a disability make it harder to get support and to exit homelessness.
"These obstacles include difficulties in getting a diagnosis from a GP, in order to get support; unsuitable environments such as noisy homeless hostels that can overwhelm people with some neurodevelopmental conditions; and acute shortages of accessible housing with lifts, ramps, mobility aids and lowered surfaces that are essential to daily living for people with certain disabilities.
"This seems wrong on multiple levels. It means their chances of exiting homelessness on their own initiative are severely limited. They depend on the system working well in every instance."
Further information
About the Centre for Homelessness Impact
The Centre for Homelessness Impact (CHI), is a member of the What Works Network. It advocates for an evidence-based approach to ending homelessness for good. CHI supports organisations in the field of homelessness and beyond to make evidence-led decisions and to adopt evidence-led practices. CHI is leading the End It With Evidence campaign which aims to improve the lives of people experiencing or affected by homelessness by encouraging evidence-led change across the sector.