View all news
'Fastball' test to detect Alzheimer's earlier gets major £1.5 million funding boost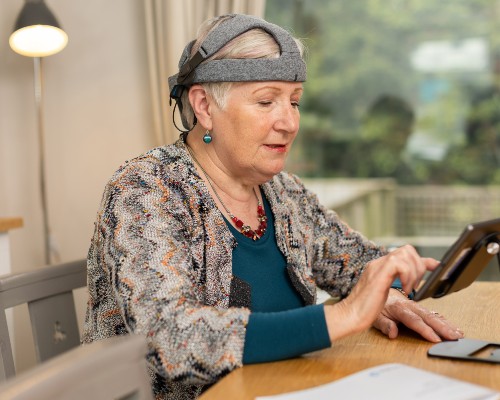 Press release issued: 12 July 2023
A simple but revolutionary test to improve early detection for dementia and Alzheimer's disease could soon be helping patients and their families, thanks to a significant £1.5 million funding boost awarded to the universities of Bath and Bristol.
Supported by the National Institute for Health and Care Research (NIHR)'s Invention for Innovation (i4i) funding, the project will see researchers Drs George Stothart and Liz Coulthard scale-up testing and development for their innovative 'Fastball EEG' dementia assessment at Southmead Hospital, Bristol.
'Fastball' is a passive, completely non-invasive test which measures patients' brain waves whilst they watch a series of flashing images displayed on a screen. Developed in-house by the researchers, the technology requires users to wear an electroencephalogram (EEG) headset, which is linked to a computer for analysis.
Previous research from Dr Stothart, Dr Coulthard and colleagues has shown Fastball to be highly effective at picking up small, subtle changes in brain waves which occur when a person remembers an image. They have demonstrated that this response changes as a person develops dementia, offering hope as a breakthrough for early diagnosis.
Dementia is typically diagnosed too late, at a point at which the disease has damaged the brain beyond repair. This can be up to 20 years after dementia first started to develop. Current diagnosis often relies on a series of subjective questions to test a person's memory, which is limited and can be impacted by a person's education, language skills or nervousness.
Fastball, by contrast, is completely passive. This means the person doing the test does not need to understand the task or be aware of their memory response. Crucially, it is also portable, meaning that diagnoses in the future could be carried out anywhere, including in a patient's home.
By testing more people earlier and more regularly, the team believes it could help lower the age of diagnosis by up to five years in the short-term and by more in the future. Recent findings from Alzheimer's Research UK suggested that many people would want to know if they will develop Alzheimer's in the future, even if they don't yet have symptoms.
Through the new five-year NIHR project, the team will test Fastball on more than 1000 patients in a working dementia clinic at Southmead Hospital in Bristol. This represents the biggest study of any kind to use EEG to screen for Alzheimer's disease with a goal to enrol a diverse patient population.
They will also work with Belfast-based commercial partners Cumulus Neuroscience Ltd to develop the technology into a product that can be rolled out wider across the NHS and beyond. It will use the existing Cumulus dry electrode 16-lead EEG headset that is UKCA marked and has FDA 510-K clearance.
Dr George Stothart, project co-lead and a cognitive neuroscientist based in the Department of Psychology at the University of Bath, said: "Nearly all of us will know someone, or be caring for someone, with dementia. The costs to families, and to the NHS is enormous and is set to rise as our population ages. Yet, dementia is currently diagnosed too late – typically up to 20 years after the disease has first begun.
"Quicker, more accurate ways to diagnose dementia are greatly needed so that patients can get treatments earlier and families can plan better for the future, which is why we are so excited for the potential of Fastball EEG and the development of our work through this significant new funding and the collaborations it will enable."
Dr Liz Coulthard, Associate Professor in Dementia Neurology at the University of Bristol and neurologist at North Bristol NHS Trust, added: "Patients can wait a long time for diagnosis and some of our current tests can be inaccurate and sometimes stressful for them. A quick, easy-to-administer memory test, like Fastball, could transform a patient's journey to diagnosis.
"As we adopt new treatments into clinical practice, we will need to scale-up our ability to diagnose people at an early stage of Alzheimer's and avoid language barriers. Fastball offers the opportunity to improve Alzheimer's diagnosis equitably."
Cumulus Neuroscience combines patented technology and in-house expertise to capture large amounts of real-world, clinical data repeated over time, across multiple behavioural and physiological domains in the clinic or a patient's home. It leverages a UKCA marked dry sensor 16-lead EEG headset synced to a novel, tablet-based neuro-assessment platform.
"Alzheimer's is a devastating disease that affects brain function, memory, and other cognitive abilities. Since diagnosis is often based on a clinician asking a patient a series of questions to test memory function, the results can be greatly impacted by factors including education, language skills and anxiety," said Brian Murphy, PhD, Founder and Chief Scientific Officer of Cumulus.
"Cumulus is proud to be partnering with Drs Stothart and Coulthard on the development of this crucial new diagnostic tool. As a passive test, Fastball EEG has the potential to democratize how Alzheimer's is diagnosed, ensuring all patients have an opportunity for earlier intervention and treatment."
Through the new NIHR funding, Fastball EEG is one of six projects announced as part of a major £11 million investment to develop enhanced digital approaches for early detection and diagnosis for dementia.
Professor Lucy Chappell, NIHR CEO, added: "New technologies have the potential to radically transform healthcare for the future. Improving methods for treating and living with dementia is work of vital public interest. These studies will also support the dementia healthcare mission in the Life Science Vision, as we look for new ways of understanding whether drugs are working by using digital biomarkers. Such significant investment in these important projects shows that the UK is at the cutting edge of research into one of the most pressing health and care issues of our time."
Director of BRACE Dementia Research, Chris Williams, said: "We are thrilled and excited to see the Fastball test being investigated for wider use in the NHS. Since 2017, BRACE has awarded significant funding to the Alzheimer's test, and we applaud George and Liz's fantastic work."
Further information
Fastball EEG continues to be supported by South West-based dementia charity BRACE, whose support helped to get the project off the ground.
Later this week, Dr Stothart will present this work at the world's number one forum for dementia research: the Alzheimer's Association International Conference (AAIC 23), which takes place in Amsterdam between 16 – 20 July.
About Cumulus Neuroscience
With a mission to generate the data and insights required to accelerate diagnosis and management of central nervous system (CNS) disorders for millions of patients and caregivers around the world, Cumulus Neuroscience is advancing an AI-based, multi-domain digital biomarker platform to enable better, faster decision making in neurology and neuropsychiatry clinical trials and patient care. Designed for and with 10 of the world's leading pharma companies, the platform enables decentralized trials, and is already making a difference in the development of therapies for Alzheimer's Disease, depression, and schizophrenia.
Designed to provide an industry-wide standard for real-world measurement of disease progression, Cumulus combines patented technology, in-house expertise and key industry partnerships to capture large amounts of real-world, clinical data repeated over time, across multiple behavioral and physiological domains in the patient's home – all with an EEG headset synced to a novel, tablet-based neuro-assessment platform. Together with machine learning (ML) analytics and the world's largest database of annotated, longitudinal, neurofunctional data, Cumulus simplifies and improves the robustness of neuroscience clinical trials to provide the best and most cost-effective assessment of CNS treatment outcomes.
The Company is supported by highly experienced specialized investors, DDF/SV Health Investors, LifeArc and Future Fund, and a world-class Scientific and Technical Advisory Board.
About National Institute for Health and Care Research (NIHR)
The mission of the National Institute for Health and Care Research (NIHR) is to improve the health and wealth of the nation through research. We do this by:
Funding high quality, timely research that benefits the NHS, public health and social care;
Investing in world-class expertise, facilities and a skilled delivery workforce to translate discoveries into improved treatments and services;
Partnering with patients, service users, carers and communities, improving the relevance, quality and impact of our research;
Attracting, training and supporting the best researchers to tackle complex health and social care challenges;
Collaborating with other public funders, charities and industry to help shape a cohesive and globally competitive research system;
Funding applied global health research and training to meet the needs of the poorest people in low- and middle-income countries.
NIHR is funded by the Department of Health and Social Care. Its work in low- and middle-income countries is principally funded through UK Aid from the UK government.