View all news
New report shows Bristol is making headway in tackling carbon emissions but social inequalities persist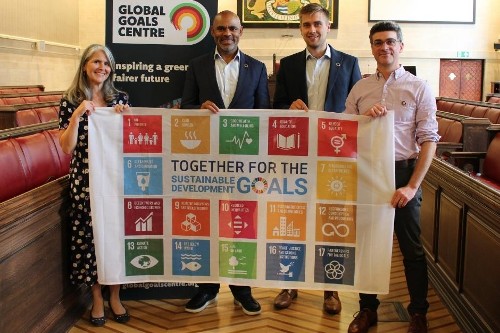 Press release issued: 23 September 2022
Carbon emissions and unemployment have both fallen significantly in Bristol over the past decade, according to a new report holding the city to account for its progress in achieving global goals which are key to the future wellbeing of people and the planet.
The report out today, led by the University of Bristol Cabot Institute for the Environment and Bristol City Council, shows the city has seen carbon dioxide emissions decrease by 29% between 2015 and 2021, while its potential renewable energy capacity has increased by more than 60% and renewable energy generation grew by over 10%. At the same time, unemployment dropped from more than one in 20 (5.3%) in 2015 to 4% in 2021.
But the progress check, which measures how Bristol is meeting the United Nations (UN) Sustainable Development Goals (SDGs), also highlights areas of growing challenge, including social inequalities and poverty – which look set to deepen as the cost of living crisis worsens.
For example, levels of employment vary by demographics. In 2021, 80.4% of men aged 16-64 were employed compared to 77.2% of women. In the same year, the employment rate for ethnic minorities was significantly lower at 68.2%.
More children in Bristol are receiving free school meals now than in 2016: especially in disadvantaged parts of the city, where this applies on average to not far from half of children (43.3%).
Housing costs are also placing a greater strain on people's finances, particularly families. The number of children living in low-income families has declined slightly from 18% in 2015 to 17.8% in 2021. But the number of children living in poverty after housing costs are taken into account has risen from 30.1% to almost a third (32.6%) over the same period. This puts Bristol further above the regional average of 25% and national average of 29%.
Report co-author Dr Sean Fox, Associate Professor in Global Development at the university said: "Given the unprecedented events of the past three years, it is not surprising progress has been mixed. On the positive side, there has been growth in the share of renewable energy in our overall energy mix and a reduction in the carbon intensity of our economic output. But we have also seen an increase in poverty, which is exacerbated by a housing affordability crisis and now a wider cost of living crisis."
The goals are built on the understanding that environmental, economic, and social sustainability are intertwined. The report therefore covers a wide range of topics, such as poverty and inequality in the city; trends in energy consumption and waste; and unemployment and infrastructure development.
Although the SDGs were ratified by national governments, it is widely recognised that achieving these goals requires local engagement and action, particularly through city governments and local anchor institutions like universities.
Bristol's active engagement with this global agenda started in 2015 and the University of Bristol has been providing dedicated academic support to the City Council and local stakeholders. This led to Bristol being the first UK city to publish what is known as a Voluntary Local Review (VLR) of progress towards the SDGs in 2019, when its report was presented at the UN by Mayor Marvin Rees.
Continuing the work to keep Bristol at the forefront of global efforts to localise the SDGs in cities, this latest report – launched during Global Goals Week – summarises progress across all 17 SDGs by drawing on dozens of data sources.
Marvin Rees, Mayor of Bristol, said: "We're working as One City to support Bristolians with the rising cost of living and tackle poverty. With the Sustainable Development Goals embedded in our approach, we are building the new affordable homes our city needs; getting more than 5,000 workers a pay rise onto the real Living Wage; and strengthening the social infrastructure that's helping to feed and support people who might otherwise be left behind.
"As we tackle the climate and ecological emergencies, we continue to build on our success reducing carbon emissions and this report is crucial in measuring that progress. I am proud to have secured an initial investment of £424 million in our City Leap clean energy programme – securing hundreds of new jobs for our city; creating cheaper, greener heat and energy; and further reducing emissions by another 140,000 tonnes over the next five years."
Professor Evelyn Welch, Vice-Chancellor and President of the University of Bristol, said: "I am passionate about making sure we're as much a university for Bristol as the University of Bristol, working closely with civic partners to serve wider local communities.
"Bristol is an exceptional city and while strong progress is being made in certain areas, significant challenges also remain which could be exacerbated by the cost of living crisis. For instance, it's clear there is still much to do in terms of equity and inclusion and I am committed to helping tackle these issues, pulling together with partners to address this jointly as a priority."