View all news
Half as many e-scooters as bikes used daily in Bristol, researchers find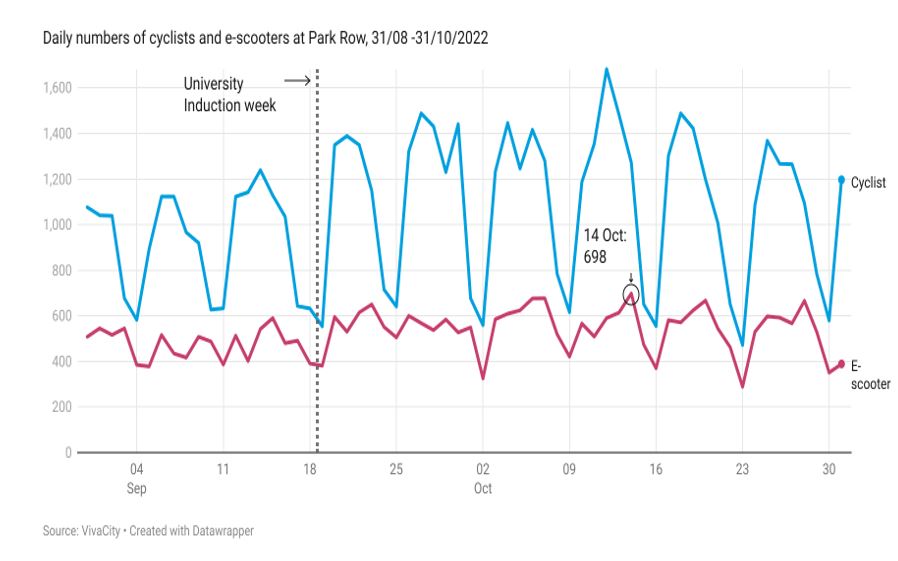 Press release issued: 8 November 2022
With the next round of Bristol e-scooter rental trials set to finish in November, research from the University has revealed that there are now nearly half as many e-scooters-users per day as cyclists in the Bristol University area.
The data, gathered anonymously and in real-time, was collated using VivaCity's AI-powered sensors from 30th August onwards. The sensors recorded 523 e-scooters on average per day throughout the period compared to 1,054 cyclists.
When looking at e-scooter usage week-on-week, the daily number of e-scooters recorded rose throughout September to its highest levels in the first week of October, peaking on Friday the 14th at almost 700. This increase aligns with the start of the new University term.
Since the University of Bristol's induction week from the 19th of September and the start of term, weekly e-scooter levels have remained stable between 3,700 and 4,100.
At the weekend, average counts in October showed levels of e-scooters were almost the same as cyclists, even peaking above cyclist levels in the early afternoon hours before dropping off after 18:00.
The sensors were also able to identify where e-scooters are used in the road space. More than 96% of e-scooters were recorded on the carriageway and 19 e-scooters were detected on the pavements on an average day.The research showeda lower proportion of people using e-scooters are using the pavement compared to cyclists, sitting at 3.6% vs 5.5% respectively.
Dr Nikolai Bode, lead researcher at University of Bristol, said: "Our aim is to understand general trends in uptake of e-scooters in terms of volumes, peak times and where in the road space e-scooters are used. In addition, we are interested in exploring interactions between e-scooters and other road users, in particular pedestrians.
"From these initial findings, for example, we can see that a low proportion of e-scooters are using the pavement and we can make the assessment that this is linked to most e-scooters using the cycle lane along Park Row eastbound leading towards Bristol city centre."
Mark Nicholson, CEO of VivaCity, added: "Our sensors have the unique ability to automatically detect e-scooters anonymously and assess their pathways and interactions with road users. As councils and transport authorities continue to assess e-scooter use ahead of potential Government legislation in 2024 to include e-scooters as a vehicle category, this anonymous data can provide crucial insight into infrastructure use, trends and facilitation.
"By working with the University of Bristol, we're excited to provide previously unknown insight into interactions with other road users, road usage and enable data-led decisions about road space design and regulation."
While Local Councils have access to data from e-scooter providers, this new capability fills a data-gap on all other e-scooter use. It will enable Local Councils to collect much needed evidence on usage patterns to inform future roll-outs of e-scooter vehicles.
The University of Bristol is one of the first to use this new feature in its analysis of road trends. To find out more about VivaCity and its sensors, visit the website here.
Further information
About VivaCity
VivaCity makes cities smarter, safer and more sustainable by supporting and empowering authorities with the right transport data at the right time.
The company's Artificial Intelligence sensors and 'Smart Junctions' signal control gather accurate, detailed and anonymous data 24/7 on transport modes, traffic flow and travel patterns, supporting strategic decisions to help optimise the transport network and improve urban infrastructure. VivaCity's sensors have been independently verified as being 97 percent accurate in assessing road user type.
Cities need to harness technology that provides comprehensive, high-quality insights, especially when it comes to roads and public spaces. When investing in projects to support sustainable travel, road safety and liveable neighbourhoods, this data is invaluable, enabling more efficient planning, impact monitoring and assessment of a scheme's success.
VivaCity was awarded the Queen's Enterprise Award for Innovation in 2021, and their sensors have been deployed in over 90 towns and cities across the UK - with international growth well underway.
VivaCity takes the protection of data seriously. Their sensors have been developed using privacy-by-design principles to ensure that personal data is never compromised.