View all news
PhD student's software makes science cheaper, faster and greener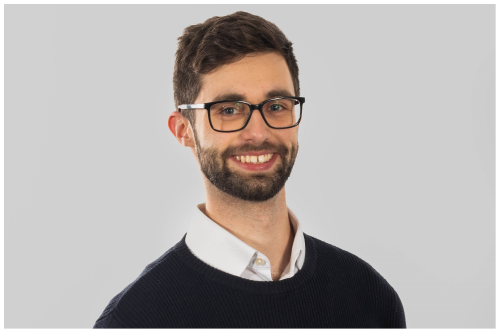 Press release issued: 1 November 2022
New software helps scientists do more chemistry experiments on the computer and less in the lab - saving time, money and reducing environment impact.
Launched by a University of Bristol PhD student, Molydyn's Atlas software helps users test hundreds of molecular combinations in a week, negating the need for a lot of early lab work.
Scientists can try combinations of up to 30,000 atoms and see them interacting in a 3D model.
Molydyn's founder Matt Bone believes transferring work from the lab to the computer will save huge amounts of time and money spent on testing chemicals.
Meanwhile, running fewer machines for less time and disposing of less dangerous chemicals will make science more sustainable.
And investors agree. This week Molydyn was given a £25,000 'Blavatnik Prize for Innovation' by funder QantX.
Matt said: "We believe that 50% of materials research should be done on a computer. At the moment it's less than 5%
"Making models is difficult, you need a lot of different skills that not every scientist has. That's where Atlas can help.
"It allows scientists to screen hundreds of materials and find out straight away if, say, half of them just won't work. Doing that in the lab could take months.
"Seeing 3D simulations completely changed my view of chemistry. It's quite thrilling thinking of the potential Atlas could have."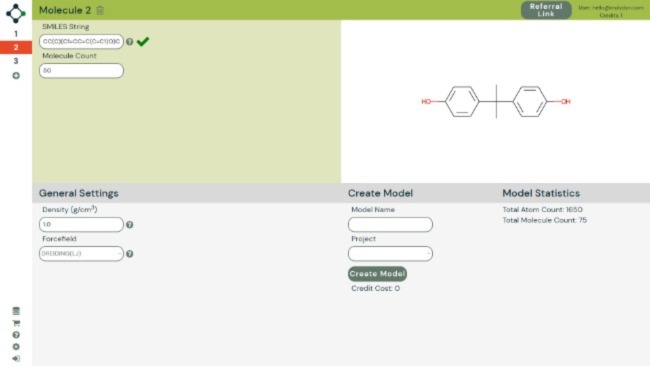 The dashboard of Molydyn's Atlas software‌
Atlas is currently aimed at academics, but it has potential applications across a range of industries, from hydrogen storage to biopolymer manufacturing.
The software makes creating models with LAMMPS, an open-source modelling tool, quick and easy. Atlas is free for simple models; users then buy credits for more complex modelling.
Matt said: "The focus of the company is making computation of chemicals more accessible to scientists and showing them what those computations can do for them.
"A lot of the chemical industry wants to get into modelling, but there's a real skills gap. There aren't enough computational scientists graduating and going into industry.
"Bristol is addressing this by offering chemistry with computing, Molydyn is taking the next step with Atlas."
Matt is in the final year of his PhD in Computational Materials Science. He hit upon Molydyn – a combination of 'molecular' and 'dynamic' – earlier this year.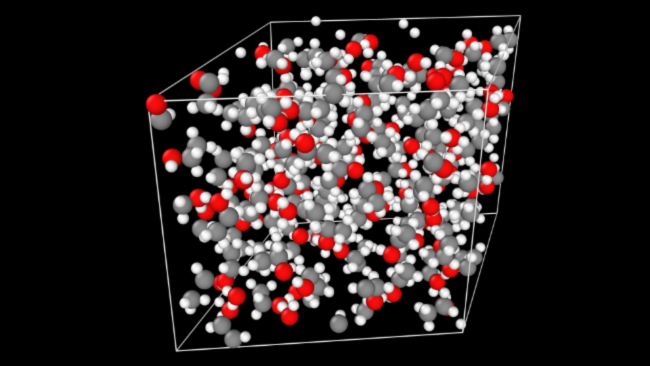 A simulation of ethanol made by Atlas and projected by open-source programmes LAMMPS and Ovito‌
Bristol-based VC funders QantX this week gave Molydyn £25,000 in start-up funding.
Richard Haycock, CEO QantX, said: "There is ongoing need for new materials discovery in relation to many aspects of industry, perhaps most pressingly in relation to new ways of dealing with the climate emergency. However, discovery cycles in this industry are slow and cumbersome.
"Matthew Bone of Molydyn has impressed us with his vision of solving this problem with the use of modern digital tools. The Blavatnik Prize for Innovation is pleased to support their initiative in bringing these tools to market and ultimately helping to solve significant global challenges."
Further information
The title of Matt's PhD: Enabling High Throughput Molecular Dynamics with Automation and Machine Learning for Development of Advanced Engineering Polymers.