View all news
Three Bristol academics recognised with honours from Royal Aeronautical Society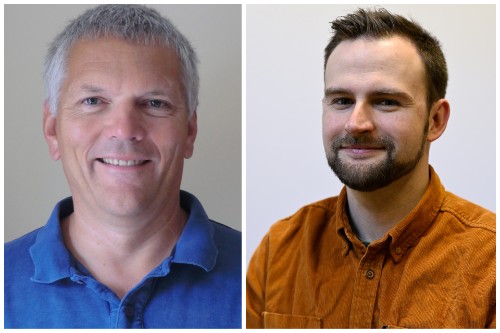 Press release issued: 29 November 2022
It's skies the limit for three University of Bristol academics who have received awards from the Royal Aeronautical Society distributed for achievement, innovation and excellence.
Prof Jonathan Cooper, Dr Duc Nguyen and Dr Joshua Hoole of Bristol's Faculty of Engineering have all picked up accolades for their impressive academic contributions and were awarded at a special ceremony in London last night.
Jonathan Cooper is the Airbus RAEng Sir George White Professor of Aerospace Engineering at Bristol. He has received an Honorary Fellowship from the RAeS. He has worked for over 30 years in UK academia, working closely with UK and world-wide aerospace industry on the development of technologies that exploit fluid structure interactions to reduce the environmental impact of future aircraft designs.
His research undertaken as a Royal Academy of Engineering Research chair has been funded by Airbus, the EU Horizon and Clean Sky Programmes, EPSRC and the Aerospace Technology Institute. He is Fellow of the Royal Academy of Engineering (RAEng) and the American Institute of Aeronautics and Astronautics (AIAA), and was recently the President of the Royal Aeronautical Society from 2019 to 2021.
He said: "I am extremely honoured to be awarded an Honorary Fellowship from the Royal Aeronautical Society, the world's oldest professional organisation dedicated to the science of aeronautics. I look forward to continuing my research aiming towards achieving net-zero aviation, with the continuing support of the researchers and academic staff at the University of Bristol and beyond."
Dr Duc Nguyen has received the Young Persons' Achievement Award reserved for a young person or team for exceptional achievement or promise in aerospace.
Dr Nguyen received an MEng in 2019 and a PhD in 2021 from the Department of Aerospace Engineering at the University. Since then, he has held both post-doctoral research and teaching roles at the university. His research outputs include eight peer-reviewed journal articles and ten conference contributions, covering aircraft dynamics, bifurcation methods, and automatic control of composites manufacturing. He is interested in the applications of dynamical systems theory to contemporary aerospace problems. In addition, Dr Nguyen has served as a reviewer for multiple leading academic journals.
Dr Nguyen has co-created a short course on nonlinear flight mechanics for BAE Systems, led by Professor Mark Lowenberg at Bristol. He also teaches an online course in control engineering for the University of Cambridge, where he contributed two science communication articles to the Cambridge Core Blog.
Dr Nguyen holds a private pilot license.
"This award reflects the excellent guidance and support I've received from the university since my time as an undergraduate student," he said. "It is my pleasure to strengthen to our strong relationship with the Royal Aeronautical Society, and I look forward to tackling the biggest challenges facing the aerospace sector in the 21st century."
Dr Joshua Hoole has received the Young Persons' Awards for his paper titled 'Landing Gear Ground Manoeuvre Statistics from Automatic Dependent Surveillance-Broadcast Transponder Data'.
Dr Hoole is currently a Lecturer in Systems Engineering in the Department of Aerospace Engineering at Bristol, where he also received the MEng and PhD degrees in Aerospace Engineering in 2016 and 2020 respectively. To date, his research has focused on the structural reliability of safe-life aerospace structures, and the development of usage profiles for aerospace systems using Automatic Dependent Surveillance-Broadcast (ADS-B) transponder trajectories and data. He has recently expanded his research to include the characterisation of manufacturing variability in high power electrical machines for transportation applications, within the University's Electrical Energy Management Group.
He said: "It's always so exciting to receive recognition for research work and the Royal Aeronautical Society's Young Persons' Written Paper Award is a real boost of confidence for someone starting out in their academic career. I'd like to extend thanks to the Royal Aeronautical Society for selecting this paper from The Aeronautical Journal and of course, this work would not have been possible without the rest of the research team involved. The paper itself exploits the massive growth of real-time aircraft tracking data to help us develop future aerospace systems that could be more sustainable".
The Royal Aeronautical Society has been honouring outstanding achievers in the global aerospace industry since 1909, when Wilbur and Orville Wright came to London to receive the Society's first Gold Medal. Over the years, honouring aerospace achievers in this way has become an annual tradition.
Peter Round FRAeS, President of the Royal Aeronautical Society, said: "The RAeS Awards offers an opportunity to recognise and celebrate outstanding contributions from senior executives and future leaders within engineering, defence, flight operations, training, space, research and education annually. The achievements of this year's award winners showcase the ongoing innovation and commitment to excellence that exists across the breadth of our global aerospace, aviation and space industries and we congratulate them on their accomplishments and success."