View all news
Bristol boldly illustrates its support for COP27 and a greener future through power of art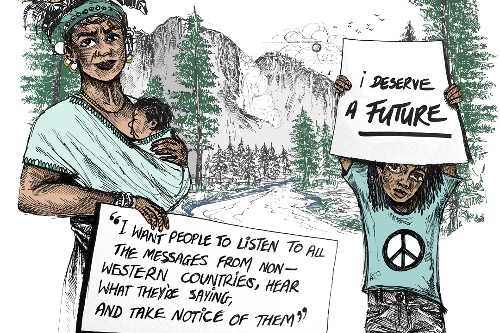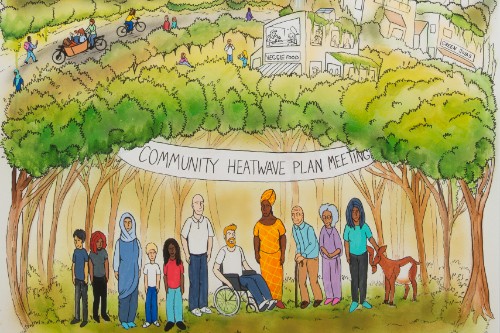 Press release issued: 8 November 2022
Local artists are showcasing Bristol's passion and wide-ranging expertise to combat climate change with an array of thought-provoking artwork, as the 2022 United Nations Climate Change Conference progresses.
Illustrator and designer Jasmine Thompson has created a series of 20 compelling drawings capturing people's thoughts and experiences of climate change, and their messages to leaders at the conference.
The illustrations, commissioned by the University of Bristol Cabot Institute for the Environment, draw on feedback from people who visited areas open to the public at COP26 last year, which was hosted by Glasgow in the UK. Conservation, biodiversity, united action, urgency, and including underrepresented voices are among the topics explored.
Jasmine, aged 28, from Montpellier, said: "I enjoy producing art with a positive purpose and this felt like a great opportunity to highlight important issues, which people really care about.
"The climate crisis is hitting home now and we're all becoming more aware and concerned about its far-reaching impact. Younger generations are especially invested in tackling the challenge, as they learn about it at school and are also witnessing it first-hand. I hope the drawings resonate with people of all ages and inspire people to think about the future and what we can do to start making a difference today."
The drawings will be shared digitally during COP27, which runs until 18 November, on social media under the strapline Every Voice Matters and displayed in the Richmond Building at the Students' Union, open to the public, from 15 until 18 November.
Jasmine said: "I've lived in many different parts of the city over the past 10 years and there's a strong sense of community here – people want to look after the environment and each other.
"I'm pleased with the final outcome. Now it's about focusing the minds of policy makers and empowering everyone to get behind the necessity to adapt and change for a brighter, more sustainable future."
Looking ahead, a painting depicting a futuristic, greener Bristol in the 2030s, having achieved a just and fair transition to a carbon neutral environment and economy, has also been created.
Local artist Andy Council painted a verdant scene of the city full of trees and greenery, people walking or cycling, and buildings with solar panels.
Andy, aged 48, who has lived in the city for 20 years, said: "The green transition absolutely needs to happen, so it was great being part of this project. Art has more of an impact on society than people think and I hope, in this case, it helps people take on board a message and get behind the changes. We can all be part of the solution and make little changes, which could be as simple as leaving your car at home and cycling locally and making more sustainable choices with what you eat and how its packaged."
Water fountains and vegetarian food outlets also feature in the uplifting green vision, which was funded by Research England and supported by the Cabot Institute for the Environment and Policy Bristol.
The father-of-two, from South Bristol spent a week completing the piece, using spray paints and acrylic.
Andy said: "I wanted it to be really positive and optimistic. My children, aged nine and 14, have been looking at it a lot when I was completing the finishing touches at home, and it has prompted questions. It would be great if it sparks conversations more widely about the challenges climate change is posing and how we can help overcome them by all pulling together."
The painting will be presented to Bristol One City representatives to remind policy makers of the pressing issues and potential solutions and the City Office is exploring ways that it can be displayed in public in future. It was commissioned by Dr Alix Dietzel, Senior Lecturer in Climate Justice and Associate Director for Impact and Innovation at the University of Bristol Cabot Institute for the Environment, who is attending COP27 which is being hosted by Sharm El-Sheikh in Egypt.
Dr Dietzel said: "Imagining a just transition, like the one Bristol has set out in its climate plans, can seem quite abstract and far off. In this piece, we wanted to lay out a vision that was clear and hopeful, one that shows Bristol in the midst of a heatwave but ready for it due to careful climate planning.
"There is plenty of greenery around, there are water features, and the city would be quite cool despite the heat. You can see bikes, heat pumps, solar panels and vegetarian food, and most importantly a community meeting which shows the city working together to prepare for heatwaves. At the heart of this vision is hope for a brighter future."