View all news
'Age is not a barrier to university' says 81-year-old graduate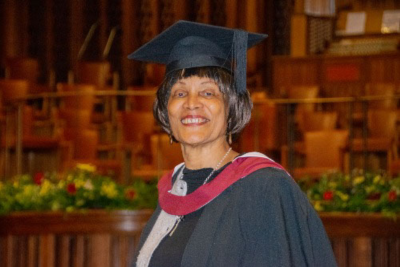 15 November 2022
An 81-year-old has told those thinking of going back to education later in life to "have courage and go for it" as she graduated with a master's from the University of Bristol.
Eulinda Antonette Clarke-Akalanne – known as Antonette – spent her career helping others, before following her dream of studying at university in her early 70s.
She did a foundation year and a degree in Anthropology at Bristol, and today graduated with Master's in Black Humanities.
Despite severe visual impairment Antonette, who grew up in Barbados, wrote a compelling thesis on the difference in opportunity for black people with darker and lighter shades of skin.
The grandma of seven recently published a poetry anthology (read extracts below), has plans for more books (including an autobiography) and is already eyeing up her next master's course.
Antonette said: "It is wonderful to be graduating again, with my son watching.
"Age is not a barrier to university studies. It is only thinking that makes one think, so have courage and go for it. Achieving your goals any time in life brings contentment, a sense of achievement and happiness. And if I can do it, so can you!"
Antonette left Barbados aged 18 after Enoch Powell visited her school to talk about work opportunities in the UK.
After emigrating, she was a psychiatric nurse and social worker, and as a midwife delivered 1,000 babies, all while raising three children. In retirement she was a respite foster carer and Citizens Advise advisor, but always felt something was missing.
She took a Foundation Year in Arts and Humanities then a BA in Anthropology, a subject that had always fascinated her.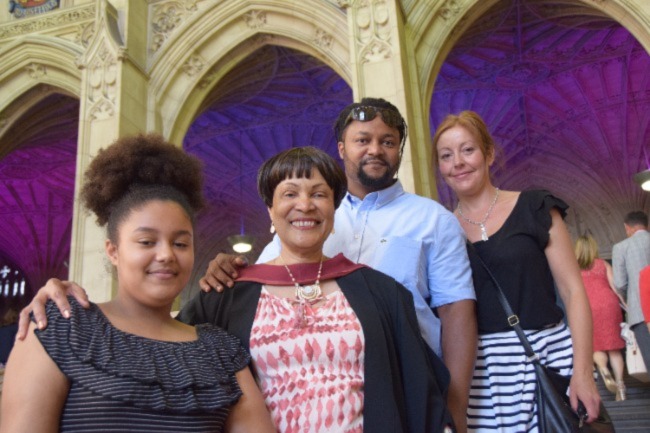 Antonette and family during her 2018 graduation with an Anthropology BA from the University of Bristol.‌
That was followed by an MA in Black Humanities at the University's Centre for Black Humanities.
Antonette said: "In Barbados we learnt British history but never anything about African history. So I never learnt that there were African kings and queens, or about the Benin Bronzes, or that the richest person ever - Mansa Musa of Mali – came from Africa.
"It fascinated me to learn that African history didn't start with slavery.
"I have always been interested in colourism. As a little girl in Barbados all of the lighter skinned children like me were treated better than the dark coloured children.
"Lighter skinned children would get better roles in plays. I played Mark Antony in Julius Caesar but darker skinned children played Judas Iscariot and roles like that.
"I wanted to study that, so I interviewed people in the UK and Barbados about their experience of colourism and looked at ways to ameliorate it."
Antonette is a big advocate for adult education and has helped eight friends to go to university later in life.
She said: "I love learning and mixing with younger people. The energy they have, the feeling that they are all going somewhere is a type of vibration, a shoot of electricity.
"Life is for living. My philosophy is to live life to the fullest. And I intend to do that until the end of my life."
Further information
Below are two poems from Antonette's recently published poetry anthology EUANCA, which can be found on Amazon or in the University of Bristol's ASSL Library. It is semi-autobiographical, drawing on many experiences form her life in Barbados and the UK.
Antonette is happy to mentor and support those looking to get into adult education later in life.

When I came to England
Composed 20th July 2007 by E. Antonette Clarke-Akalanne

At 18, I came to the Mother Land,
The land I learned to love, glorious England!
The country I'd known about all my life,
The land of Oliver Cromwell and Henry the eighth.
The birthplace of Queen Victoria and Shakespeare.
I'd even acted as Mark Anthony in Julius Caesar,
And recited English rhymes from my nursery reader.
I performed poems by Robert Southey, and Wordsworth,
And gustily sung traditional British songs with great mirth,
Songs like 'Rule Britannia', and John Peel,
Oooooh, how British I did feel!
Bedtime stories were by Charles Dickens and Enid Blyton.
I was well prepared for my mother land, sweet England.
I'd dreamt of daffodils and visualised snow on my skin.
I was really excited to meet my English kin,
'Things aren't always what they seem to be'
I knew about England; the English knew naught about me.
I was asked if I lived in a tree. Yes! I replied cheekily,
when Princess Margaret came to my country,
she slept in the tallest tree.
The questionnaire was not at all pleased with me,
And reported that I insulted royalty.
On the bus, people refused to sit beside me,
At first, this made me unhappy.
But eventually, I felt like a princess, sitting separately,
With a spare seat for my shopping, right beside me,
While others crammed into a two-seater,
or stood up and fell when the bus turned a corner.
It was later that people begun to demand,
'WILL YOU MOVE YOUR SHOPPING, SO I COULD SIT DOWN?'
I didn't like this, not one little bit,
Because I had got used to being a princess,
And resented putting the shopping on my nice dress.
My mother taught me to finish all my food,
because some children are starving bad.
She said, 'close my fork and knife, when you've finish eating.
Some folks, were kind, caring, generous and sharing,
Like when I was invited for a meal of Bolognese.
I finished the dish and was about to reminisce
when the host filled my plate with more of the stuff.
I was too polite to tell her I had had enough,
so painfully and slowly I finished that up,
But she filled my plate again, to the top.
Mama said, to close my fork and knife, to show that I'd finish eating.
I looked for a knife but, on the table, there was only a fork and a spoon.
and Mama never said to close the fork and spoon.
By now, I was bursting and felt as though I would swoon.
I must have turned green or really looked bad,
Because the host said, 'you look terribly sad',
I could hardly wait to get home to regurgitate.
And still dislike Bolognese till this date.
Now years later I am happy as can be,
I share good and bad experiences in my poetry.
I have got good friends, a lovely family,
Fairly good health, and a good memory.


Colourism
Composed 1st Oct. 2018 by E. Antonette Clarke-Akalanne

Only brown, red, or white girls sung in our school choir,
A black woman and man were the school cook and gardener.
I played as Mark Anthony in Julius Caesar,
Only brown, red, or white girls acted as Mary, baby Jesus' Mother,
A dark skin boy was Judas Iscariot, Jesus' traitor.
All the best roles went to the lightest and the worse to the darkest,
Like the dark boy who played Caliban in
The Tempest.
From my child's eye I saw nothing wrong,
especially as I was benefitting from it all
and at the time accepted it as norm.
Now I know that the behavior is colourism,
a skin colour stratification,
that is a form of discrimination,
which needs to be vanquished and binned for destruction.
Some parents create animosity between their children,
by favoring the lighter to their darker offspring.
Creating lifelong conflict between the siblings
as is revealed in research findings.
Colourism is often times acted out overtly.
and usually accepted whole heartedly.
It was acted out in my playground,
and normalized in the nursery rhymes that we sung.
Such as: "Brown all around, Red at the head,
White at the right, Black stay back."
Regardless of the shades of our hue,
all children, sung that rhyme with joy and gusto,
While hop scotching, maypole dancing, or skipping.
Colourism was birthed by slavery,
When the enslavers had offspring from black enslaved women.
The light skin progeny was given lighter jobs,
while their dark complexions relatives toiled in the grounds.
Colourism is still practiced today,
We must erase this cancer somehow, some way.
It is present in advertising,
the cosmetic industry and entertaining
and when actors resort to skin lightening
Confront and challenge colourism when you see it,
Ignoring, condones, validates, and perpetuates it.
Let's demote and vanquish it.