View all news
Event celebrates Outstanding students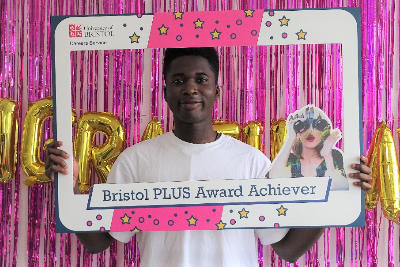 Press release issued: 12 May 2022
Eight Outstanding students have been celebrated at a special awards ceremony.
The University's PLUS Award is given to students who work hard on extra curricula activities, such as volunteering.
More than 1,000 students achieve the CV-boosting award each year, but just eight go on to achieve the Outstanding PLUS Award.
Those eight include an Engineering student who successfully campaigned for a basketball court to be built in his local area, a Law student who spoke at COP26 and a Geography with Innovation student who created an app for his fellow students that links them up with others to play sport.
The students were celebrated last week in a special event at the Global Lounge, the University's international hub. The event was put on by the University's Careers Service, which runs the PLUS Award and Outstanding Plus Awards.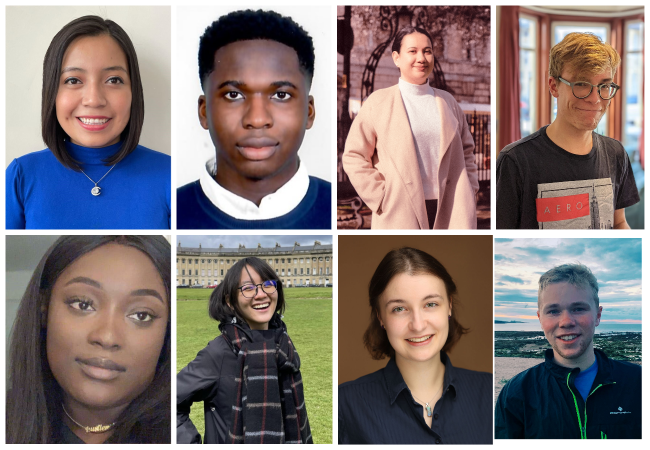 T‌he Oustanding PLUS Award winners (clockwise from top left): Mayra Yadira Rivera Lopez, Sammy Olotu, Patty Miranda, Crispian Morris, Mark Bushby, Antonia Voigt, Lee Ling Chu and Tania Nzembela
‌
Speaking at the event, Professor Sarah Purdy, the University's Pro Vice-Chancellor for Student Experience, said that those who took the PLUS Award needed a "proactive attitude, good time management and development of a range of skills" which were "all attributes which employers love".
But, she added, Outstanding PLUS Award winners had gone one step further to impress the judges.
She said: "These remarkable students have made a significant change or impact through their PLUS Award activity and were able to articulate their contribution to the highest level through their application.
"Your achievements are fantastic – well done!
Below are the winners of the Outstanding PLUS Award. For more details see the Careers Service blog.
Antonia Voigt worked on a research project tackling barriers to secondary education in the Asia Pacific region. Antonia won in the Better World category.
Sammy Olotu campaigned for a basketball court to be built in his local area by collecting feedback from his community and petitioning his town council. Sammy won in the Change Maker category
Tania Nzembela worked as an NHS clinical support worker during the pandemic. She signed up to work on a respiratory ward and brought her positive energy to patients and colleagues. Tania won in the Civic Superstar category
Patty Miranda is the Bristol Student Union's sustainability champion for the Law School, and spoke at COP26 about her experience of floods at her family home in the Philippines, caused by the effects of climate change. Patty won in the Diverse Partnerships category.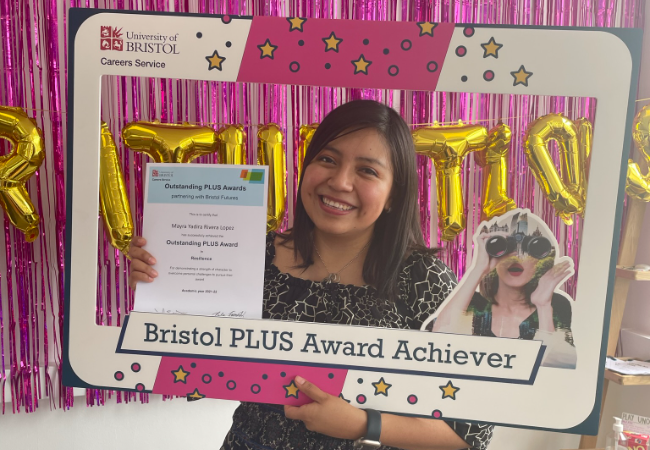 Outstanding PLUS Award winner Mayra Yadira Rivera Lopez
‌
Crispian Morris had a part-time job alongside his studies at the student laptop and mobile clinic. He brought energy and enthusiasm and supported customers adapting to online working. Crispian won in the Everyday Hero category.
Mark Bushby wanted to make it easier for people to organise team sports, so created Armago, an app for students to link up with others and join games of sport, securing investment and over 1,000 downloads so far. Mark won in the Innovation category.
Mayra Yadira Riviera Lopez suffered a family bereavement during the pandemic, and was unable to return to the UK while she cared for her family. On her return, she continued with her PhD research, her teaching assistant role and entered the three-minute thesis competition, inspiring others into research. Mayra won in the Resilience category.
Lee Ling Chu, who is part of the BME (Be More Empowered) for Success programme, organised events to help East Asian students feel a sense of belonging at the University and to address the rise of discrimination and Sinophobia during the pandemic. Lee Ling won in the Wellbeing Champion category.
Rob Taffinder, Assistant Director for the University's Careers Service, said: "With so many fantastic students to choose from, picking the winners of the Outstanding PLUS Award is an unenviable task.
"Those who won the award really showcased their integrity and intelligence, but more than anything their passion to help others. They are all credits to the University."