View all news
Great George to chime for anniversary of University's Royal Charter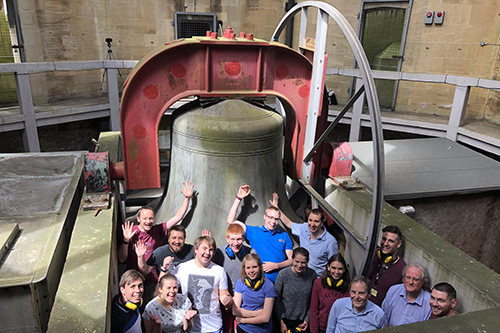 25 May 2022
Bristol's largest bell will ring out across the city today [25 May] as the University of Bristol celebrates the anniversary of its charter being granted.
King Edward VII granted the University its Royal Charter on 24 May 1909, enabling it to confer degrees and formally establishing the University of Bristol.
To mark the anniversary, Great George - housed in the tower of the University of Bristol's Wills Memorial Building - will ring for five minutes at 1.55pm today. It will be rung by a team of bell ringers who swing the bell using its rope and mounted wheel to produce a louder and richer sound than when the clock hammer usually chimes.
The bell is only rung for significant national and local events, both sad and joyful. It was last rung to mark Prince Philip's funeral on 17 April 2021 and this will be the first time it's been rung to mark Charter Day since 2019 due to the pandemic.
Today it will be rung by the University of Bristol Society of Change Ringers, led by Matthew Tosh, one of the Society's alumni members.
Weighing in at 9.5 tonnes, Great George is England's seventh largest bell and is believed to be the third largest bell in the country which can be rung by hand.
When cast in 1924, it was regarded as the finest E-flat bell in the whole of Europe. Today it is still one of the finest and deepest toned bells in the world.
Today's ringing coincides with a special Charter Day event in the Wills Memorial Building, held to acknowledge and thank donors who have pledged to leave a legacy to the University.